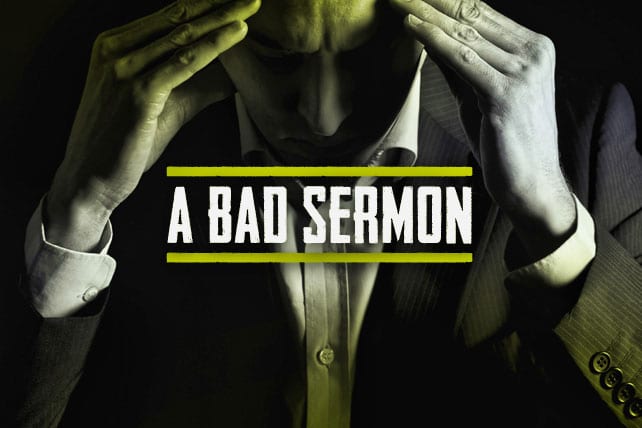 Every preacher has preached a bad sermon. If you think you haven't, then you probably have preached a bunch of bad sermons. It will happen to all of us. Sometimes it won't just be bad, but a disaster! When a sermon doesn't go well, most of us get very discouraged and if the despair is great enough, it might cause us to question whether we should continue to preach at all. I bet no one can top the disaster of John Newton's first sermon as he described it to a friend in a letter he wrote the next day:
I set off tolerably well though with no small fear and trembling. … Before I had spoken 10 minutes I was stopped like Hannibal upon the Alps. My ideas forsook me; darkness and confusion filled up their place. I stood on a precipice and could not advance a step forward. I stared at the people and they at me. Not a word more could I speak but was forced to come down and leave the people, some smiling, some weeping. My pride and self-sufficiency were solely mortified.
Imagine if John Newton, one of the most celebrated pastors, preachers, hymn composers and letter writers in the last 400 years, took that one bad sermon as affirmation that he should not preach? How tragic would that have been? Most of our first sermons were bad, and most pastors "lay eggs" even after years of preaching. Take heart, for our Sovereign God doesn't use perfect preachers and sermons. God uses imperfect, broken jars of clay to proclaim his perfect word, and the Spirit uniquely works through this design.
So, if you preached a bad sermon recently, welcome to the club. God's mercies are new every morning, and that includes our preaching ministry. Embrace your brokenness and need to grow. Trust you have not ruined your church because of one bad sermon (or several for that matter). Allow the grace of God in Christ to pick you back up and help you saddle up for next Sunday. God used John Newton in amazing ways despite this terrible experience, and he will continue to use you in your ministry.
If you are just testing your gifts to preach, embrace any opportunity you get to preach and listen to the feedback of others. Even if it is hard to hear, God will use that to help you grow. Newton didn't allow a really bad sermon to cause him to give up. Nor should you.