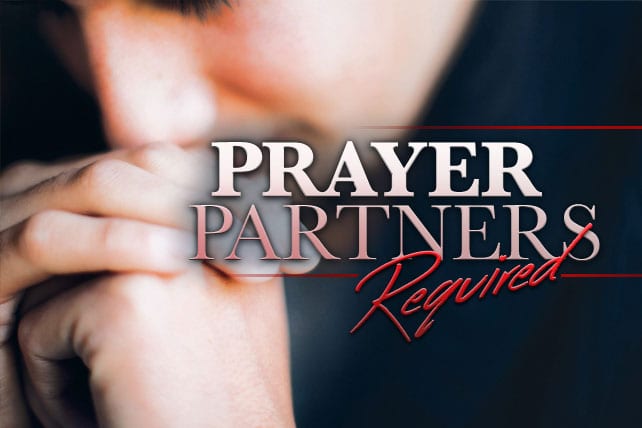 For the past 14 years I've had seven prayer partners—one for each day of the week. Many wonderful people pray for me at 12Stone Church, but these warriors are the ones I count on, each on their day. When I was at Skyline Church in San Diego, I had 30 prayer partners, one for each day of the month. Upon arriving at 12Stone, God directed me to seven, saying,
"I want you to pray for your prayer partners as much as they pray for you."
God knew I couldn't do that with 30 people!
Two other prayer warriors, and dear friends, Doug and Sherry (who live in Arizona), have prayed for Patti and me for 20 years. They have moved heaven on our behalf!
I send my prayer partners, as a group, quick emails and texts with prayer requests and with results. These communications are not very structured, they are not written with polished language, but they are highly personal and very practical. In turn, they often send me back prayer requests of their own. When we don't have specifics, God shows us how to pray for each other.
Each prayer partner signs up for a year at a time. Some have been with me for many years. Others move off the team and that's OK. No guilt, just gratitude. It's not a team that has meetings; some of them don't even know each other! That's OK too! They are all busy and don't need another meeting. They use that time to pray!!
I know they pray. I sense their prayers! I'm deeply convinced of the Holy Spirit's power and God's increased favor because of their intercession.
My current team includes Charlie, Matthew, Bryan, Karen, Larry, John and Susan. For each of you, I am incredibly grateful, and I love praying for you! To Doug and Sherry, I can't imagine leading without your faithful prayers! Thank you!
So, to you as a church leader, let me ask, who is praying for you? You don't need seven; five is great, three will do and two is good! If you have just one faithful intercessor, that's fantastic—start there. If you don't have specific committed prayer partners, ask God to help you select a few, and ask them this week.