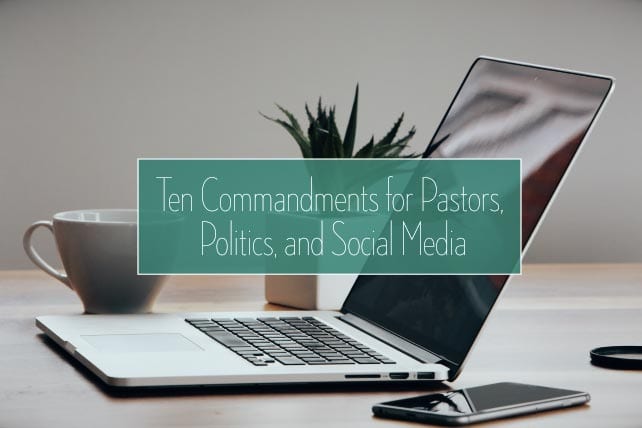 There are few topics that evoke as much emotion as politics. The intensity of emotions is particularly evident during presidential elections.
Pastors and church staff are not oblivious to political emotions. Indeed, some of them can be among the most intensely emotional.
The purpose of this post is not to imply that pastors and staff should abandon their convictions. Nor is it to suggest that silence is always the best option. Instead, I hope it is a gentle reminder of 10 issues pastors may want to consider before posting political views and opinions on social media.
1. You shall remember you are an ambassador for Christ. All of your written and spoken words should be a reflection of Him.
2. You shall remember you are your church to many people. Your words, for better or worse, are a direct reflection on your congregation.
3. You shall not be a stumbling block to unbelievers. Many are watching you. Many are reading your words.
4. You shall refrain from posting when your emotions are high. Take a break for a day. If you don't, you will likely regret it later.
5. You shall remember that others are often posting in the throes of their own anger and emotions. It is usually best not to engage them then.
6. You shall remember your words are permanent. The moment you post, someone has likely captured your article or post, even if you delete it later.
7. You shall understand some members of your congregation likely have a different view than you. Is your post worth the disunity that may follow?
8. You shall not be a distraction to the gospel. Politics are often an easy detour from that which really matters.
9. You shall be aware of the long political memory many people have. Some people are talking today about the comments Christians made in the presidential election four years ago!
10. You shall be aware that your political opinions may cause disunity with other churches in the community. Make certain the words are worth the price that is paid.
The writer of Ecclesiastes reminds us in chapter 3, verse 7, there is "a time to be silent and a time to speak." For the sake of the gospel, please make certain you have sought God's wisdom to discern what time it is for you.
Let me hear from you.