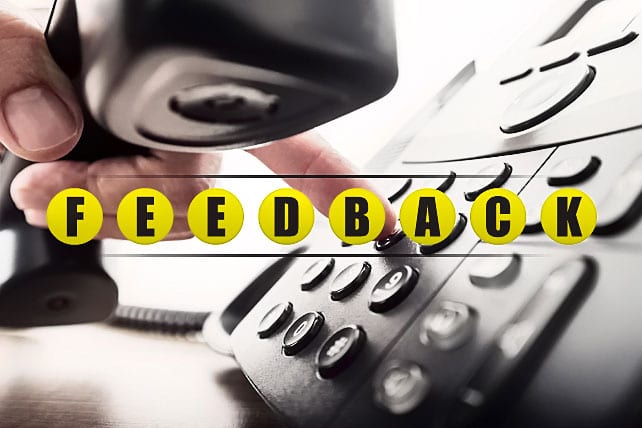 After purchasing something during the Christmas season the salesperson handed me the receipt and said, "Here you go. You will be contacted in a few days to complete a brief survey. You could win a gift-certificate." I smiled politely and said, "OK. Thanks." It's not that I was going to avoid the survey but I certainly wasn't going to go out of my way to look for it. In my mind there is not much more that they need from me after I take the receipt. However, my perspective changed when I was speaking to my college-aged son about how his work incentivized customer service through these surveys. Good survey results are good for him. I'll admit it, now I'm more attuned to how I can help the salesperson and the respective companies to improve.
In a similar vein I'd like to encourage you who are members of a local church to have buy-in to what is preached in your pulpit. As a preacher myself I can tell you that your feedback is immensely helpful.
Let me pull back the curtain for a minute and provide a brief overview of our mysterious craft to those of you who are not preachers. We spend hours each week reading, meditating on and praying through our text. We have a few days to become intimately acquainted with it. We strive to learn all of its nuances, textures, hues and beauty. We read commentaries to better understand it and through prayer strike the rock of the text in hopes that a miracle would happen and water would gush out of it. But we don't do this simply for ourselves (though we benefit immensely from this weekly discipline). We do it for our congregation. We do it for you. We tirelessly work, doing our very best to get the marrow of the text into our bones so that we can get it into the hearts and minds of those who will gather on Sunday morning. During the week we think of various people whom we love in our churches. We are pulled over by the Holy Spirit, like a divine police cruiser, to pray for members of our church. More than anything we want God to be glorified by you getting the text—or perhaps better—the text getting you! This is everything to us during the week. Then we preach and deliver this clumsily but nevertheless lovingly wrapped homiletical package to you. We finish and close in prayer. It is done. We walk down from the pulpit and sing the closing song with you. We hear the benediction with you. Then we move about the church talking to many of you even as we have labored in prayer for you this week. We love God, you and this text.
You know what happens so often after this? Pastors don't hear much about the sermon. Here then is my plea to you, consider providing regular, thoughtful feedback to your pastor.
Now hear me out. I am not advocating simple nice things or compliments to your pastor to make him feel better as if he is hanging on by a thread. In fact, for your sake and for his, I would encourage you against empty flattery or critique. Instead, I am advocating for intentional thoughtful feedback on what has been preached.
Here are three reasons why:
1) It helps him to hear how his preaching is being heard. Are you hearing what he is saying? Is he getting his point across? We don't simply want to know that we are heard as much as that the Word of God is being received, contemplated and applied.
2) It provides a framework for understanding the theological and practical depth of the congregation. In talking about the Bible with church members, we as preachers better understand what is believed and how it is applied. Help us help you.
3) It reinforces the fact that you are part of a church family where you rely upon each other. Let's remember that we are all church members. We are all to serve one another. The preacher's job is to communicate God's Word. He has been gifted, called and installed to this office for a reason. But he is not there by himself nor is he there for himself—he is there for others. This feedback around the topic of the sermon provides a reinforcement of God's order and design of the church.