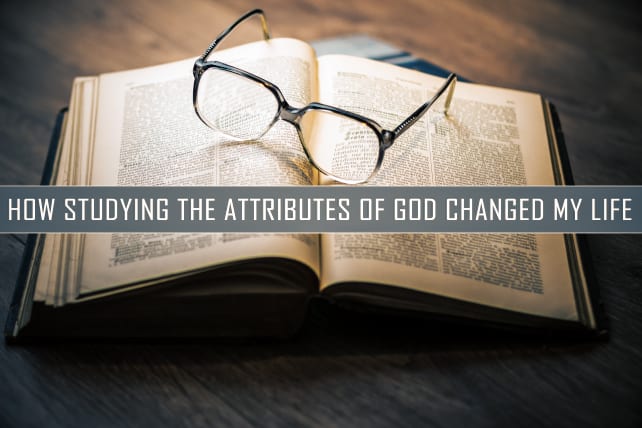 After 20 years of Christianity I realized I was only acquainted with God. The dissatisfaction in my soul was overtaken by a longing to know Him more intimately. My quest began with a six month study of the attributes of God. The initial study included reading a couple of books (mentioned later), studying scripture, plus meditating on one attribute each day.
An attribute is something attributed as belonging to a person, such as a characteristic or character trait. A Divine Attribute is something God has revealed as being true about Himself or one of His Characteristics. As I identified these Divine Attributes, I wrote them in my journal along with scripture verses and personal observations.
Six months of daily meditation on the attributes did not satisfy my desire to know Him. I needed more time so I committed to six more months, then another year and another. Now 31 years later I still begin my worship time each morning meditating on an attribute, and it has changed my life!
Let me briefly share five ways meditating on the attributes of God changed my life:
1. It Changed My View of Personal Devotions – My time with God each day is not about charts or systems; this time is about my relationship and worship. The dynamic changed from "supposed to" to "get to!"
2. It Changed My View of God – The more I understood God's attributes, the less I misunderstood the way He truly dealt with me, accepted me and wanted to relate to me as His child.
3. It Changed My View of Scripture – I am a better Bible student now. It is strangely humorous to think I separated a knowledge of God from a knowledge of His Word.
4. It Changed My View of Myself – I found myself less influenced by non-biblical philosophies as I became more grounded in who God IS, thus learning who I am in Him.
5. It Changed My View of Others – Although I still struggle with interpersonal relationships, a knowledge of God's attributes consistently reminds me of His grace, mercy and patience in my life. How could I offer any less to others?
If you have never done a study of the attributes of God, I have listed some books to get you started. This could be one of the most exciting studies of your Christian life. Go ahead and try it! See if it does not change your life!