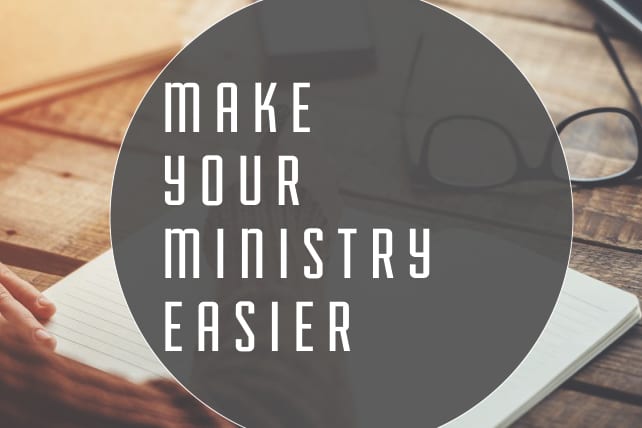 The church year is well underway. Are you feeling overwhelmed? Ministry is hard work, but there are ways to make it easier. Consider these 10 ways to simplify.
1. Say no at least once a week. If you are already good at saying no, say at least one MORE no per week. (Just because you feel guilty for saying no doesn't mean you should say yes.)
2. Read the text for NEXT week's sermon at least once by the end of THIS week. If you are already doing this, push it back one more week.
3. Unsubscribe from at least five email newsletters (not Church Central…).
4. Create a "read and review" email folder for the others. Set it up (or have someone else set up) so they are delivered right to that folder. When you are processing email, you won't be distracted by items you can review any time.
5. Turn off notifications. I've been in a couple of meetings lately where people's phones or laptops kept dinging. I don't know how they stand it. If you keep notifications on, you are allowing someone else to determine where you attention goes. It will be harder to concentrate, and you'll take longer to get everything done. If you don't know how, ask someone to set it up for you.
6. Experiment with planning worship farther in advance. If you plan one week at a time, start with two weeks. If you already do a season, do two. Your staff will thank you, and your life will be easier.
7. Try asking, "What do I want to do now?" rather than "What should I do now?" You may find it easier to decide. Working mostly from obligation is not much fun.
8. Pray as you prioritize. You'll get more clarity about what's important. Remember, you have enough time to do everything God really wants you to do.
9. Finish a draft of your sermon at least one day before it HAS to be done. Don't worry if it seems bad. You'll find your subconscious works for you while you sleep, and you'll come back to it with new ideas and a new perspective. Try this with any presentation or writing you have to do.
10. Ask the question, "Is this my responsibility?"Remember, just because someone wants you to do it doesn't mean it is your responsibility.
Which one appeals to you? Experiment with it for a week. Or adapt it to make it work for you. Or come up with your own idea to simplify your work.