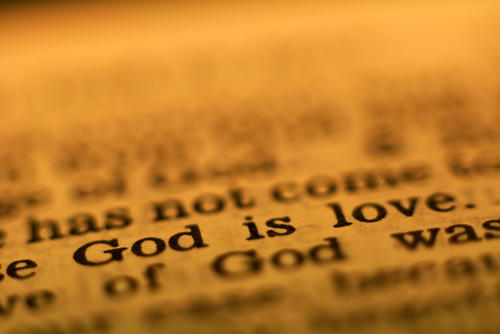 Love in the Bible, as in our everyday usage, can be directed from person to person or from a person to things. When directed toward things, love means enjoying or taking pleasure in those things. Love towards persons is more complex. As with things, loving persons may mean simply enjoying them and taking pleasure in their personalities, looks, achievements, etc. But there is another aspect of interpersonal love that is very important in the Bible. There is the aspect of love for persons who are not attractive or virtuous or productive. In this case, love is not a delight in what a person is, but a deeply felt commitment to helping him be what he ought to be. As we will see, the love for things and both dimensions of the love for persons are richly illustrated in the Bible.
As we examine the Old Testament and the New Testament in turn, our focus will be on God's love, then on man's love for God, man's love for man and man's love for things.
Love in the Old Testament
Jesus said that the greatest commandment in the Old Testament was, "You shall love the Lord your God with all your heart, soul and mind" (Matthew 22:36ff). This must mean that if a person understood and obeyed these two commandments, he would understand and fulfill what the whole Old Testament was trying to teach. Everything in the Old Testament, when properly understood, aims basically to transform men and women into people who fervently love God and their neighbor.
God's Love
You can tell what a person loves by what he devotes himself to most passionately. What a person values most is reflected in his actions and motivations. It is plain in the Old Testament that God's highest value, his greatest love, is his own name. From the beginning of Israel's history to the end of the Old Testament era God was moved by this great love. He says through Isaiah that he created Israel "for his glory" (Isaiah 43:7, "For thy name's sake, O Lord, preserve my life
In thyrighteousness, bring me out of trouble." God would cease to be righteous if he ceased to love his own glory on which his people bank all their hope.
Since God delights so fully in his glory—the beauty of his moral perfection—it is to be expected that he delights in the reflections of this glory in the world. He loves righteousness and justice (Psalm 11:7; 10:15), was rooted in God's free and gracious love. It is wrong, therefore, to say that the Mosaic Law is any more contrary to grace and faith than are the commands of the New Testament. The Mosaic Covenant demanded a lifestyle consistent with the merciful covenant God had established, but it also provided forgiveness for sins and thus did not put a man under a curse for a single failure. The relationship which God established with Israel and the love he had for her was likened to that between a husband and a wife: "When I passed by you again and looked upon you, behold, you were at the age for love; and I spread my skirt over you, and covered your nakedness: yea, I plighted my troth to you and entered into a covenant with you," says the Lord God, "and you became mine."
This is why Israel's later idolatry is sometimes called adultery, because she goes after other gods (Ezekiel 23; 16:15; Hosea 3:1).