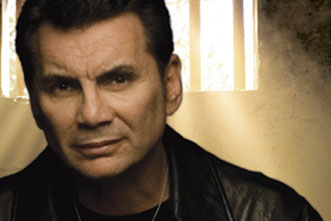 Michael Franzese grew up as the son of the notorious Underboss of New York's violent and feared Colombo crime family. It was a life filled with power, luxury,and violence until he decided to walk away. Now, the former "Prince of the Mafia" is a man changed by the saving power of Christ. Michael's compelling testimony comes from a deep passion to inspire others to make positive changes in their lives against intimidating odds.
I'll admit, I was a little nervous interviewing former mobster, and I had a few mob questions I wanted answered. Michael is truly an amazing man and a living example that no one is "too bad" to be forgiven.
TONY: Do still you consider yourself to be in danger?
MICHAEL: Imminent danger? NO! Most everyone I ran with during my years in the life are either dead or in prison. I don't believe anyone is "actively" hunting me down. But I would not consider moving back to Brooklyn. I never sell my former associates short. I am cautious, but not fearful. I believe God has my back.
TONY: What is the hardest thing to let go of since leaving the mob?
MICHAEL: My allegiance to the oath I took in becoming a "made" man and the relationship I shared with my father, who was also a "made" man. For a time, letting go of both tore me up inside.
TONY: Do you think that mob movies such as "The Godfather", "Goodfellas", and many others have helped to expose the evils of the mob or glorified the mafia?
MICHAEL: "The Godfather" glorified mob life, in my opinion, and to a lesser extent, so did "Goodfellas." Mob life is bad because it sanctions and promotes illicit and sinful behavior. It is also devastating to the families of its members. I just signed on to have a movie produced on my life story as it is told in my autobiography, Blood Covenant. I can assure you, that movie will accurately portray the "life." Stay tuned!
TONY: Are you truly at peace with your past?
MICHAEL: I am. I certainly do have regrets, but I'm at peace because I believe in the cross. Took me a while to get there, but God has shown me in these past years that He does forgive those whose hearts are sincere. He has given me a new path and purpose in my life, and all I can do is hope to do better with the opportunity I have been blessed with.
TONY: If you bumped into a past associate, what would you say?
MICHAEL: I have bumped into men from my past. God has blessed every encounter. Almost every broken relationship I have had as a result of my defection from my past life has been repaired. Only God could have done that!
TONY: Who has had the greatest influence on you?
MICHAEL: Jesus, my hero! The only true "man's man!" Also, my wife, Camille. She is a true blue and hung in there with me through all the turbulent times. My late mother-in-law, Irma. Her rock solid faith in God was and is a tremendous inspiration for me. Lastly, the apostle Paul, my motivator. If his heart could be transformed, there is hope for all of us.
Michael, a speaker and author of several books, is available for speaking engagements through Outreach Events.
__________
This is a sponsored post from Outreach Events, one of my ministry partners on TonyMorganLive.com. And, since I'm Italian, this proves that I still have "connections"…if you know what I mean.