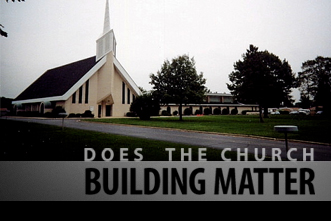 I've been thinking about the places that new churches meet. More on that in the coming days.
In 2007, we did some research on the best places for churches to meet. Since most established churches have a building, the focus was more on where new churches would meet. I've adapted an article I wrote in 2007 for use today.
First, you have to ask the question, "Will the unchurched visit a church that meets in a non-traditional venue?" Survey results indicate that they will.
To a majority of the population — and particularly the unchurched — it doesn't matter. While I was at the Center for Missional Research at the North American Mission Board, we asked 1,200 people if knowing a church meets in a traditional church building would negatively affect their decision to visit or join a church. Nearly three-quarters of those surveyed expressed that whether or not the church met in a traditional church building made no difference. (This blog is an adaptation of an article I wrote on the subject while working there.)
More precisely, we asked, "If you were considering visiting or joining a church, would knowing that the church does not meet in a traditional church building impact your decision?"
The responses told an important story:
It would not make any difference – 73%
It would negatively impact my decision – 19%
It would positively impact my decision – 6%
Not sure – 2%

The statistics are just as convincing for the "unchurched." In fact, a higher percentage of those who rarely and never go to church said that a "traditional church building" made no difference in whether they'd attend or join.
The findings were surprising. For the past 25 years, prevailing church growth wisdom has suggested just the opposite — you can't grow a church without a building. During that time, churches have popped up in all kinds of locations, such as movie theaters, schools, restaurants, homes — even drive-in theaters. Some of these locations have come from necessity. (These are often the easiest places for new churches to rent.) Strategic reasons have also come into play. Most figured if they wanted to reach the unchurched, they had to do it on neutral territory.
Prevailing wisdom began to change in recent years, though. Many new leaders have suggested that the completely unchurched, particularly in urban America, often have no recollections — negative or positive — with traditional church buildings. Three out of every four Americans say the issue doesn't impact their decision about attending or joining a church. In fact, every demographic group we studied had at least 60 percent of its respondents say it was inconsequential.
Even though most of those who were asked don't seem to care if the church has a traditional church building, those who have a preference strongly favor traditional locations — by an almost a three to one ratio. Almost every demographic group, out of those with a preference, had more people open to the traditional locations than to the non-traditional ones.
As you might expect, lily-and-poinsettia church attendees (those who come just on the holidays) reacted more negatively to the idea of coming to a non-traditional church building. (Often the reason they attend church on the holidays is to make some connection with traditions of their past.) Six times as many holiday churchgoers preferred traditional locations to non-traditional ones.
Roman Catholics were the most likely religious group to not want to attend a church in a non-traditional location. A third of all Hispanics surveyed said a church meeting in a non-traditional place would negatively impact their decision to attend. Not a single Hispanic person surveyed said it would positively affect their decision.
Soon, I will look at some different research showing a statistically significant difference for new churches meeting in schools or movie theaters.
What do you think? Have you met in a non-traditional setting, and what were the challenges and opportunities?
Reposted with permission from Edstetzer.com. You may comment below, or if you wish to interact with Ed, comment at the original post on his blog here.