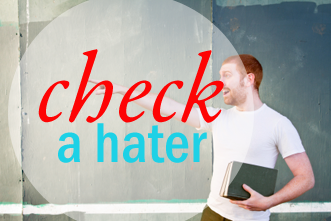 I know we can't spend our lives on the defensive.
I also realize that, when it comes to personal offense, we're called to turn the other cheek.
The best strategy for dealing with critical, nasty people is usually to ignore them.
Nevertheless, I think every once in a while, it's good to check a hater.
Sometimes, God might want to use you to shut down a rumor cycle or a negative conversation.
When you hear someone talking crap about a fellow believer, slandering their character, or impugning their motives, why not speak up?
How about saying something like:

"I don't agree with what you're saying about him/her, and I'd appreciate it if you stopped."
Or:

"I'd prefer we didn't go there. ___ is a good man/woman from what I know, and besides, he/she isn't here to defend himself/herself."
I was in a situation recently where I felt I was being baited to drag someone's name through the mud.
Three different times over the course of the conversation, I stood up for the person in question, and it felt good.
Other times, I haven't done so well with this. I kind of cowered. Those times, I felt kind of sick to my stomach.
No, you're not called to police the attitudes and actions of others.
But if you get the chance to check a hater, and in so doing, defend someone, don't be a wuss.