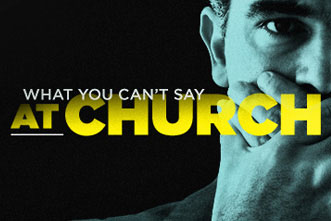 You're not allowed to talk about that at church. In fact, you're not allowed to talk at all during the typical American church service.
And that's a problem for the majority of the population that does not attend church.
Most people view the typical worship service as a passive time of one-way communication. They believe church leaders and members are uninterested in their thoughts, doubts and questions.
This perspective is one of the major reasons people avoid church, as we report in our new book, Why Nobody Wants to Go to Church Anymore.
People today, especially younger generations, want to be part of the conversation.
They live in an interactive world. They view the typical church sermon time as an elongated, one-way lecture.
Though they desire the subject matter, the delivery mode is passive and nonparticipatory.
In the book, we advocate something we call Fearless Conversation. It's one of the "four acts of love" that we believe can make a church irresistible.
When it comes to matters of faith, people crave a real conversation, not just another lecture from a professional Christian.
Conversation isn't just preferred. It's a more effective form of communication.
Seminary professor, Norm Wakefield, told us, "The act of verbalizing imprints truth on our mind. It's important to allow people of any age to talk it out. That's how our human minds work. We work it out by talking it out. That's another reason lecturing is so inefficient."
It's also why Jesus allowed for questions and conversation—give and take—in his teaching.
And Jesus was fearless in his interaction with people. He wasn't afraid of their questions, their comments or the topics they wanted to bring up.