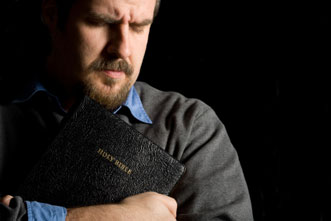 The chaplain of the Chicago Cubs recently contacted me to say that he had purchased 20 copies of my new book on prayer to study with members of the team.
Given the fact that the Cubbies haven't won a pennant in over 100 years, it makes good sense from them to give prayer a try! If only more churches would give prayer a try!
Ask any congregation of Christ-followers if they think that prayer is important, and all heads will nod in unison. Ask that same group how many are committing daily time to prayer (i.e. in the "closet," not just on the fly), and very few hands will go up.
Stop and think for a moment about what this prayerlessness means. It means that most believers are not praying for the salvation of their lost friends or for the spiritual protection of their children. It means that they're allowing unconfessed sins to build up in their lives and that they're cheating God of thanksgiving and praise. It means that they're not interceding for pastors, missionaries, Christian leaders, government officials, schoolteachers and hurting friends.
What would it take to get the people in our churches off the bench and onto the praying field? Let me share what's been working at Christ Community Church, where I am senior pastor.
1. Set a Good Example
I learned a long time ago that my number one job as a leader is to serve as a "poster child" for the biblical values and practices that I preach. When I speak on the topic of evangelism, for example, I'd better be able to illustrate my sermon with personal stories of recent conversations that I've had with unbelievers in my neighborhood and at Starbucks. Similarly, when the topic is prayer, I'd better have practical examples of what's currently working in my life. If I'm not incarnating what I'm preaching, my sermons ring hollow and fail to impact others.
Are you known as a person who prays? According to Acts 6, prayer was one of only two activities for which the early church's leaders insisted on protecting their time. You may never be able to lead like John Maxwell, speak like Andy Stanley, evangelize like Rick Warren or write like John Ortberg—but there's nothing holding you back from praying like the best of them! Determine today that you are going to excel at praying.
2. Pray as a Staff
We have 30-40 ministry staff at Christ Community Church (about 100 staff overall). This group meets twice a week, first thing in the morning, for an hour of prayer. Our focus is usually on ministry concerns, although personal issues also surface. We try to keep the sharing of prayer requests to 20 minutes, so that the majority of our time is spent in actually praying.
And when we pray, we pray!! We break into groups of three or four and pour out our hearts to God. The room in which we meet rumbles with the sounds of intercession. I gently rebuke any groups that don't get right to it, or that stop before the time is up to chit-chat. This is serious business!
Not too long ago, I overheard a new staff member being told by one of our veterans: "Get ready to pray—because that's one thing we really do around here!" One of the side-benefits of all the hours we've logged together praying is that our staff has experienced an amazing unity over the past two decades—no major coups or huge defections. I guess the staff that prays together stays together.
3. Teach Regularly on the Topic of Prayer
AOL recently published a list of "Top 10 How To's" its users expressed a desire to know more about. One of the surprises on the list was: "How to Pray."
(Before we give the respondents too much credit for their spiritual interests, let me quickly add that the list also included "How to Play Poker" and "How to Make French Toast.")
Is it possible that the people in our churches don't pray more than they do because they just don't know how to pray? Interestingly, this is the only activity that Jesus' disciples ever asked their Master to teach them how to do! (See Luke 11:1.) How often do you preach about prayer, complete with user-friendly suggestions for getting started?
In addition to weekend series on prayer, we schedule four annual Prayer Breakfasts for men at Christ Community Church. We've been doing this for years. We actually call them Power Breakfasts, so as not to scare away the guys who are beginners at prayer. But the topic of the morning is always the same: I always teach—very, very practically—on some aspect of praying. And let me quickly add that we also practice praying at these events—Not long, just 8-10 minutes with a few guys from around each table. We know that if the men will immediately use the insights they've just learned, they stand a better chance of continuing to implement them later on.
4. Include Prayer Exercises in the Worship Services
This past weekend, I had the opportunity to visit another church's worship service. An older pastor on staff movingly interceded for the needs of his congregation. His petitions are written out ahead of time and filled with Scripture references, colorful metaphors and reverence for God. In fact, my wife asked him for a copy of his prayer the last time we visited.
I am all for "pastoral prayers" in worship services, but the downside of this practice is that it limits praying to the experts. How much better to have the entire congregation pray! Granted, this will take some training. We will have to give those gathered helpful direction, or they will merely zone-out when we carve out time for them to pray.
Here are a couple of prayer exercises that I have used at Christ Community Church. The first is to pray on the spiritual armor of Ephesians 6. One by one, I explain the belt of truth, the breastplate or righteousness, the gospel shoes, and so on. I pause after mentioning each piece of armor, giving the congregation an opportunity to pray it on. So, for example, when they ask God for the belt of truth, they confess all recent expressions of dishonesty in their lives and appeal for God to make them into men and women of integrity. Or when they pray on the gospel shoes, they invite God to give them both a heart for lost people and opportunities for conversations about spiritual matters.
A second prayer exercise that I use with some regularity I've dubbed the "body parts" prayer. I picked this up from the Apostle Paul in Romans 6, where he says that we are no longer to offer the members of our bodies as instruments of sin, but rather to present them to God as instruments of righteousness. So, I'll mention one body part after another (eyes, mouths, hearts, hands, etc.) and ask the congregation to repent of the ways in which that part has been used for sin and to dedicate it afresh to be used by God. The first time or two that I led this exercise, I did all the praying so people could catch on.
What other exercises can you create that would engage your congregations in prayer? How about asking them to pray for three unbelieving friends? Or what about listing the nine fruits of the Spirit (Galatians 5:22, 23), inviting everyone to choose one that is conspicuously lacking in their lives, and then instructing them to ask God for more of this particular quality.
I'll give you one more idea to stimulate your thinking. I recently shared a prayer request at our weekend services that I had pulled off the Voice of the Martyrs website. It had to do with a pastor in a repressive country who had been jailed that week for his faith. I said to the congregation that we were going to pray for this man—but before we could do so, it would be helpful to compile a list of things to pray for. What might that list include? People began calling out responses: protection in jail, a good lawyer, a vibrant witness to fellow prisoners, back-up leadership for his church, support for his family… When we had an idea of how to pray for this persecuted pastor, we got on our knees (yes, this works even with a very large group in an auditorium with a sloped floor) and personally interceded.
5. Weave Prayer Throughout Leadership Meetings
Most of us wouldn't dream of starting a meeting with our staff or elders or volunteer ministry leaders without "opening in a word of prayer." Similarly, at the conclusion of these gatherings, we faithfully ask someone to "close us with a word of prayer." Prayer gets reduced to a mere formality—like singing the "Star Spangled Banner" before a ballgame.
In an effort to break this pattern, I am learning to interject prayer throughout the course of my meetings. At a recent gathering of elders, for example, I interrupted our three-hour agenda on four or five occasions and asked these leaders to pray in small groups. Sometimes this was done right in the middle of a discussion, because the topic we'd been debating had defied resolution. Rather than pressing on in conversation with each other, I suggested that we bring the matter before God.
We did so for the following ten minutes, after which—not surprisingly—we were able to bring closure to the issue that had previously baffled us.
Other "interruptions" at this meeting gave us the opportunity to pray about matters while they were still fresh in our minds (and we, too, were still fresh). The alternative would have been to hold off on prayer until the very end of the evening—when everyone was exhausted and could no longer remember what had been discussed two hours earlier.
This seems like such a simple procedure to follow: break-up meetings with frequent pauses to pray. But if I'm not very, very intentional in this regard, it doesn't happen. I'll huddle with my executive pastor for a couple of hours and fail to pray until one or the other of us notes that we only have five minutes left. Ugh! I've got to remember: Stop and pray. Stop and pray. Stop and pray.
6. Train Small Group Leaders to Protect Time for Prayer
Small Group gatherings can often operate in a similar fashion to the leadership meetings I just described. Prayer is used only as an opener and closer; the agenda, in this case, is Bible study. Nothing wrong with that. But, unfortunately, it's often the only thing that a Small Group gets around to. When time runs out on the clock, somebody quickly wraps things up with a brief prayer, and that's it.
Small Group leaders must be trained to protect time for prayer. Occasionally, they should frontload the praying so that it takes place before the Bible study component. They should set a limit on how much time is spent "sharing" prayer requests versus actually praying. They should be given creative lines with which to introduce prayer, so that it's not always: "Anybody got anything to pray about?" (Try one of these: "What's the biggest challenge you face this week?" "Which member of your family is in greatest need of prayer? Why?" "How does God want you to grow these days?")
And don't limit praying in your Small Groups to intercession for each other. What about times of thanksgiving, or confession, or praise? Some time ago I bought a used pool table through an ad in the newspaper. The previous owner volunteered to drive it to my house and help me set it up. During the course of our time together, I learned that he is a Christ-follower, and he discovered that I'm a pastor.
"Can I ask you a question," he called from under the pool table where he was attaching a leg. I was prepared for a theological stumper. But instead, he explained to me that he leads a Small Group of men, and they always end their meetings with prayer. "Usually," he explained, "we just pray for each other. But every once in a while I'll say, 'Let's take a few minutes to praise God for Who he is.' Do you know what happens next?" I didn't. "Nothing. It gets absolutely quiet. Nobody knows what to say. Why is that? Why can't we praise God for even five minutes?"
We lack the basic vocabulary with which to praise God. We know a handful of his attributes—at most.
Interestingly, there are over 250 names and titles and attributes by which God goes in Scripture. Over 250! That's a lot to praise God for. Get a hold of that list and start praying it back to God—and then teach others to do the same. (By the way, this list of 250 appears as an appendix in Prayer Coach)
7. Provide Prayer Counselors at the End of Worship Services
For the past few years, I have been closing our weekend services by reminding the congregation that God wants Christ Community Church to be a "house of prayer." To that end, we provide a number of prayer counselors who stand across the front of our auditorium and are available to intercede for those who will come forward. This is not merely an evangelistic invitation—although some who come for prayer end up putting their trust in Christ. People also approach our prayer counselors because they are wrestling with the topic that was just addressed in the sermon, or because there are struggles in their personal lives.
Here again, I try to serve as a role model to the congregation. During a recent series on parenting, I let them know that I'd be asking for prayer for each of my three grown children after the service. No big troubles in their lives—I just wanted to take advantage of a prayer counselor's availability to intercede for my family and me. This communicates to everyone that coming forward for prayer needn't be a public statement that, "My life is a wreck!" My vulnerability in asking for prayer breaks the ice for all to come.
A couple of months ago, we added another dimension to our post-service prayer offer. We built kneeling benches and placed them at intervals across the front of the auditorium. I introduced these by saying that some worshipers might want to pray at the close of a service on their own. They could now skip the prayer counselor, if they so desired, and head straight to a kneeler. Those benches are currently in constant use! Sometimes married couples come up, get on their knees, and pray side-by-side. I love it!
I'm sure that there are other ways to get your church off the bench and onto the praying field. But I hope that these seven ideas will stimulate your thinking. The greatest benefit of prayer, of course, is that it will draw your people closer to Christ. George MacDonald, the 19th-century novelist, said that a runaway boy may head for home because he is hungry—but, ultimately, he needs his mother more than dinner. In the same way, our needs may drive us to pray, but we need Christ even more than answers to our prayers.
Jim Nicodem is the senior pastor and founder of Christ Community Church in St. Charles, Illinois. The church has grown from a few couples when it began to over 5,000 people on several campuses. A graduate of Wheaton College and Trinity Evangelical Divinity School (D.Min.), Jim enjoys helping believers deepen their relationships with Christ. Learn more about Jim's very practical approach to prayer in his book, Prayer Coach.