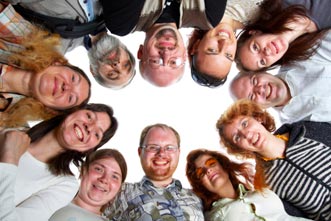 I recently came across an article about a denomination's new outreach campaign. While the campaign mentioned preaching the Gospel, the motivation behind the campaign struck me as odd: attracting new members to the denomination's sagging membership rolls. In other words, these churches needed new members, and as a bonus, these new members could have Jesus.
This trend of turning Jesus into the bonus that comes with church membership is an easy trap. I know that I want more people in my community to know Jesus, but I have often slipped into wishing for more people at church services. Just as growth is the mark of health in our economy, so membership growth has become the goal for many churches.
We've all done it at some point: more bodies equals health. If we're losing people, then our churches are in danger of shutting down, and we need to figure out a way to get them back.
If you consider that sentence, I hope you'll notice that Jesus is missing from it. We're not calling people back to Jesus; we're calling them back to church. Some may say that Jesus is implied in this, but I think it should be the other way around: by calling people back to Jesus, we are also calling them back to Christian community.
Brett McKracken's post in The Wall Street Journal illustrates this quest for church survival. Citing a 2007 LifeWay poll, McKracken states, "70% of young Protestant adults between 18-22 stop attending church regularly."
He says we want to keep people "In the Church" so we need to, "figure out a plan to keep young members engaged in the life of the church." There is a fine difference, but I think it's an important one when we say that we are called to make disciples. The disciple-making happens in community, but we don't make disciples to keep our numbers up.
He's right to critique this: "Increasingly, the 'plan' has taken the form of a total image overhaul, where efforts are made to rebrand Christianity as hip, countercultural, relevant." However, some of this rises out of someone's cultural location and not a desire to simply be hip. There's a world of a difference between a church plant in a thriving artistic community using art in its service and McKracken's example of "looking cool, perhaps by giving the pastor a metrosexual makeover, with skinny jeans and an $80 haircut, or by insisting on trendy eco-friendly paper and Helvetica-only fonts on all printed materials."
I agree with McKracken's point: we can get lost in trying to be hip or relevant, but to a certain degree, churches need to be who they are, where they are. Not every church that meets in a bar is pulling off a hipster stunt. Many are sincerely trying to reach people where they're at.
McKracken brings a valid critique to gimmicks and consumer marketing strategies that have infected the church, but his motivation for this is still flawed, "Are these gimmicks really going to bring young people back to church?" My point of contention with McKracken is subtle, but critical for our understanding of the Gospel. Churches can come and go. The survival of a church is not a reason to share the Gospel.
I love my church, but I'm not called to share the Gospel in order to get more people to attend. If the goal is the survival of my church, then I can become desperate, resorting to the hipster gimmicks that McKracken lambasts. I'm no longer motivated by the love of God and the call to discipleship. I'm motivated by the call to membership. I understand that church attendance serves as a helpful mark of how we're doing. To that end, a church that's losing members should certainly take note of that trend. It could be a symptom of something gone awry.
McKracken wants to point Christians toward a more authentic way of following Jesus rather than relying on marketing and clever tricks. I appreciate that. I think we could do much better at reaching our communities by serving them in a hands-on way rather than trying to lure them into church.
Nevertheless, trying to get people back into church pews misses the point. It's a subtle mistake, but it's important. I agree with McKracken that we want to make disciples and not just another Jesus brand, but the solution is not getting people back to church for the right reasons.
We do want people in Christian community, but we want them to come because they are learning to pray to Jesus, to serve others like Jesus, and to love like Jesus. Our job is not done when the chairs are full. Our job is done when we have made disciples who count the cost and imitate Christ. That is a much more difficult job because it's hard to measure and impossible to do without the work of the Holy Spirit. In fact, we may draw some back to Jesus and not to our churches.