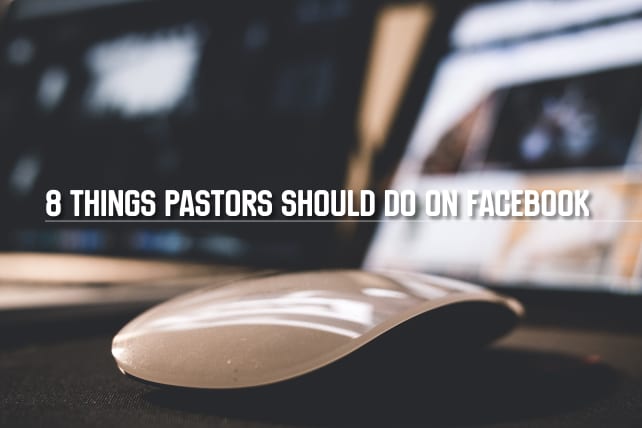 In a previous post we discussed 18 Ways Pastors Can Ruin Their Reputation on Facebook. It stirred some emotion as a number of people vented about some of the misuses of Facebook they've seen pastors make. If you're a pastor, I hope that hasn't scared you away from Facebook, as it remains a great tool for connecting with people within your church and community.
Today, we turn toward the positive and look at eight things pastors should do on Facebook.
1. Listen. James 1:19 says, "My dear brothers and sisters, take note of this: Everyone should be quick to listen, slow to speak and slow to become angry." Nothing could be more important on Facebook. Listen more than you speak. By listening, you'll get to know people better and learn what's going on in their lives. You find out who is hurting, who is frustrated, who is thriving, who is gifted in ways you never realized.
2. Pray. James 5:16 tells us, "The prayer of a righteous person is powerful and effective." Whether your Facebook friends post good news or bad, a success or a failure, you can always pray for them. When you do, ask God for guidance as to how to respond if at all. He may prompt you with the words to type in a reply. He may prompt you to pick up the phone. Who knows what could happen.
3. Engage/comment. Of course, if all you do is listen and pray, you're not going to have much impact on Facebook. In fact, nobody's going to even know you're there. Show you care about your Facebook friends by engaging with them. Comment on people's updates. When other people comment on your updates, reply back to them. Respond promptly to messages and new friend requests.
4. Publicly encourage. One of the best ways you can engage with people and show you care is to encourage them. It doesn't take a lot of time or effort either. Posting a comment on someone's update with a simple "Congrats!" "That's awesome!" or "I'm praying for you," shows the person (and their Facebook friends) that you really are listening and you care.
5. Respond privately to sensitive issues. Facebook not only provides the means to respond publicly to your friends but also privately. If someone posts an update alluding to a personal or sensitive issue—their relationship status changes, they've lost their job, they sound depressed—in addition to publicly encouraging them, you may want to want to send them a private message. Not only does it give you the opportunity to say something you might not want to say publicly, but by asking open-ended questions, you invite them to open up more privately about what's going on and how they're really doing.
6. Be human. People are not connecting with you on Facebook so they can hear about God and church all the time. They want to relate to you as a human being. Post about what's happening in your life. Share photos and video of your family. Talk about your other interests and hobbies. Share links to articles you think are interesting.
7. Be authentic. People are also not connecting with you so they can see how perfect people live. Don't just post the good stuff that's going on in your life. It's OK to express sadness, anger and frustration. In fact, it's not just OK, it's necessary. We are all frail and sinful. People need to understand that as a pastor you are not better than they are. You are just blessed to be forgiven and have the Holy Spirit at work in your life.
8. Initiate friend requests. Some people are afraid to initiate a friend request with a pastor. After you meet someone in the community or meet someone for the first time at church, initiate a friend request with them the next time you're on Facebook. Remember Jesus hung out with prostitutes and tax collectors, so you should be hanging out on Facebook with people who are not Christians, too.
This is an excerpt from part of the Social Media for Pastors and Church Planters Webinar I didn't get to. Video, slides and resources from the Social Media for Pastors and Church Planters Webinar are available.