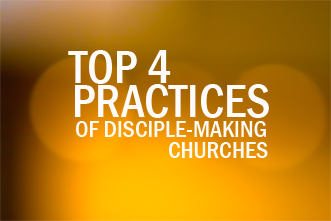 Editor's Note: Willow Creek Community Church conducted the REVEAL study to help measure spiritual growth in churches today. MOVE: What 1,000 Churches Reveal About Spiritual Growth offers their latest research. This excerpt highlights the top four discoveries from the most effective disciple-making churches.
Once five hundred congregations had taken the REVEAL survey (we hit that mark in the fall of 2007), we could easily identify those churches most successful at fostering spiritual maturity. We performed a simple mathematical process, identifying what would become known as the "top 5 percent" churches. We wondered what those twenty five congregations were doing. Why were their results so exceptional? And most importantly, what could the rest of us learn from their leaders?
A lot, as it turns out.
Rather than being concept driven, the information these pastors and leaders shared is vitality driven. It works. And — best of all — it is simple and reproduc­ible, whether you lead a church with great resources or one that scrapes by from week to week. These are their four best practices and one overarching principle of leadership.
Practice 1: They get people moving.
Instead of offering up a wide-rang­ing menu of ministry opportunities to newcomers, best-practice churches promote and provide a high-impact, nonnegotiable pathway of focused first steps — a pathway designed specifically to jumpstart a spiritual experience that gets people moving toward a Christ-centered life.
Practice 2: They embed the Bible in everything.
At best-practice churches, the Bible goes well beyond its role as the foundation for teaching and life instruction. These churches breathe Scripture. Every encounter and experience within the church begins with the question, "What does the Bible have to say about that?" And church leaders model living life according to the answers to that question.
Practice 3: They create ownership.
Best-practice congregants don't just belong to their church; they believe they are the church. They embrace its dis­cipleship values as part of their identity. Best-practice churches inspire and hold people accountable for changing their behavior — for becoming more Christlike in their everyday lives as a reflection of their faith.
Practice 4: They pastor their local community.
Best-practice churches don't simply serve their community. They act as its shepherd, becoming deeply involved in community issues and frequently serving in influential positions with local civic organizations. They often partner with nonprofits and other churches to secure whatever resources are necessary to address the most press­ing local concerns.
In addition to these four practices, we identified one overarching leadership principle that emerged in our interaction with the senior pastors of these top 5 percent churches. These churches are led by individuals consumed with making disciples. Absolutely consumed. Making disciples of Christ was unquestionably their most important aspiration and the deepest desire of their hearts. And that characteristic fueled all four of the practices.
I don't know if you've ever had those nagging doubts that I had: Do I really know what's going on in the hearts and souls of my people? Is all this activity and programming moving them closer to God, or are we all just spinning our wheels? The REVEAL survey told us the truth about how our people experi­enced church, and some of what they told us wasn't pretty. But it also showed us how to do a better job of helping people grow spiritually, which, after all, is why all of us — you and me — do what we do.
This post was an excerpt from MOVE: What 1,000 Churches Reveal About Spiritual Growth (Zondervan 2011) used by permission. Photo credit: Jonathan Ashcraft
Greg L. Hawkins is executive pastor of Willow Creek Community Church. He is also co-creator of REVEAL, an initiative that utilizes research tools and discoveries to help churches better understand spiritual growth in their congregations. Greg and his wife, Lynn, live in the Chicago suburbs with their three children.
Cally Parkinson is brand manager for REVEAL and previously served as the director of communication services at Willow Creek Community Church, a role she undertook following a twenty-five-year career at Allstate Insurance Company. Cally and her husband, Rich, live in the Chicago suburbs and have two grown children.