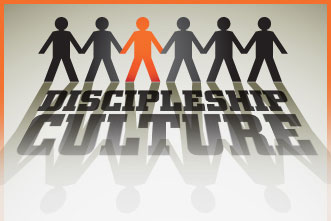 Last year at Catalyst Conference, I attended a breakout with 3DM, a ministry that helps pastors and churches think about the importance and future of discipleship. I had participated in a pilot coaching program Catalyst was conducting, and this breakout talked about some of that experience.
The one thing that impacted me most was a slide that was shown. I don't have a copy of it. I captured one with my phone, but its quality is not good enough to share here, and I can't seem to find another, so I recreated the concept in the picture here. (I know what you're thinking…I'm an artist…right?
) Anyway, this one paradigm shaper has impacted my teaching and church leadership as much as anything in recent years.
You can see the diagram, but in case it isn't clear, here are some explanations:
Invitation
This refers to the atmosphere and degree of welcoming a church or an individual message provides. Do people enjoy being there? Do they want to come back? Is it inviting? Is a message fun to listen to? Is it encouraging and helpful?
Challenge
This refers to the degree others are encouraged to grow in their walk with Christ. Are they challenged? Are they held accountable? Are personal disciplines encouraged? Are sins exposed? Are expectations strong?
The theory is that churches tend to fall into one of these four quadrants:
Low Invitation/High Challenge – Produces a discouraged/burnout culture.
Low Invitation/Low Challenge – Produces a bored culture.
High Invitation/Low Challenge – Produces a cozy/chaplaincy culture.
High Invitation/High Challenge – Produces a discipling culture.
I wouldn't attempt to put churches in one of these categories, but I could. I know some of each of these. Chances are you do, too.
If you put Jesus, the master disciple-maker in this diagram, we find He was both high invitation and high challenge…people loved to be around Him…they were attracted to Him…yet He continually challenged them. He confronted them where their lives needed to change.
That's the kind of church I want to be. Those are the kind of messages I want to deliver each time I speak. To be a discipling church, we must find ways to be high invitation and high challenge.
Have you seen each of these type churches?