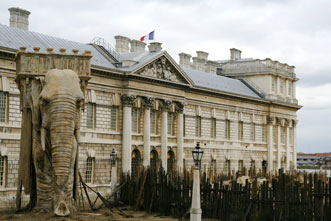 In its opening weeks at the box office, some reviewers reluctantly praised Les Miserables while panning it for being too sincere and epic, laden with "unashamed, operatic-sized sentiments." This criticism is similar to the objections raised against Babel, the recent effort from Mumford and Sons. But just as many Christians praised Mumford and co. for letting music and faith take them soaring above cynicism, the epic new production of "Les Miz" has been racking up acclaim from Christians, including bloggers Tim Dalrymple and Owen Strachan.
CNN suggests a marketing effort concentrated on evangelicals, including large institutions like Focus on the Family, is paying off at the box office. But the story's themes of radical, beautiful grace are widely and justly celebrated. Even those who didn't see the film in advance were pulsing with excitement. Mike Cosper wrote a paean for The Gospel Coalition even before seeing the film, urging readers to see it. Cosper's pre-review rightly highlights the powerful depiction of grace in the film and garnered a great deal of attention (more than 2,000 tweets and Facebook posts and likes at my last visit).
Cosper, Dalrymple and Strachan rightly highlight the beautiful depiction of the Gospel in this classic tale. Dalrymple began his post: "I cannot think of any work of fiction that conveys the contrast between Law and Grace as vividly and profoundly as Les Miserables." All three authors cite the distinction between law and grace in the titles of their posts, a distinction that has often been a common theme in analysis of Les Miz.
But what if the story also shows us a beautiful picture of law?
In a famous scene at the beginning of the story, we encounter a thief named Valjean who is newly released from prison. After being turned away for being a convict, he is finally welcomed by a priest. He repays the kindness by stealing the priest's silver and running away. When he is caught and dragged back, the priest forgives him and even gives him more than he had taken. In the musical version, the priest sings, "By the Passion and the Blood,? God has raised you out of darkness; ?I have bought your soul for God!"
This encounter with grace is far more beautiful and sacrificial than I can portray in this summary, but I also haven't spoiled it for you. Valjean is reformed and transformed. Yet, the antagonist, a policeman named Javert, hunts Valjean down ruthlessly, as he is convinced of his own righteousness and Valjean's depravity. The common approach is that the story presents a sharp contrast between the law (Javert) and the Gospel (the priest and Valjean).
But there's another way to look at the narrative. Rather than seeing Javert as a law-riddled villain and Valjean an anti- or post-law hero, perhaps we should see two different approaches to law: one fueled by grace and the pursuit of mercy and true righteousness, the other fueled by anger and self-righteousness. When the priest and Valjean depict grace, they are in fact keeping the law. The priest is obeying the commands of Jesus: loving his neighbor, turning the other cheek, doing mercy and forgiving freely as he has been freely forgiven by God. In other words, the picture of grace and Gospel in Les Miserables is also a beautiful portrait of law and commands. Hugo's priest isn't just a Christ-figure; he's also a Christ-follower.