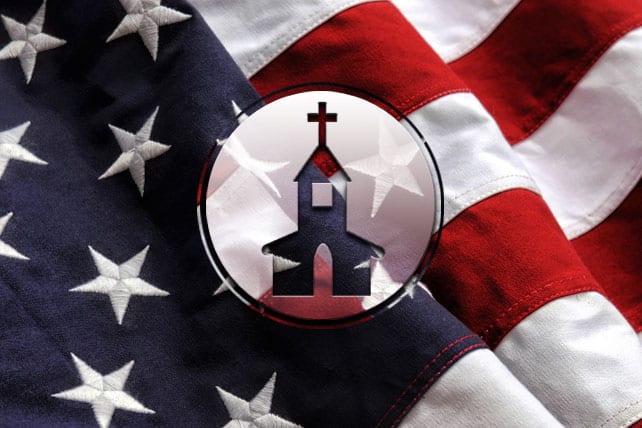 I grew up like most white evangelicals in the American South. Being a Christian in the Bible Belt meant that it was common to regularly fuse Jesus with nationalism. Unfortunately, it's taught in churches everywhere and rarely questioned.
I can remember reciting the pledge every morning in public school right before a "moment of silence." And of course, I'll never forget pledging to the Bible, the Christian flag and the American flag at Vacation Bible School. Nationalism was a big part of my childhood and adolescence.
I don't recall ever having seen my faith in Christ as being incompatible with a zealous patriotism. That's of course until I read Resident Aliens by Stanley Hauerwas and William Willimon early on in college. That's all it took to get the wheels turning. I then began rethinking Jesus and the Kingdom of God.
I seem to remember that this was at the height of my patriotism, around the time of the bombing of Baghdad in 2003.
After reading Bonhoeffer, who believed no nation's flag belonged in the church, I began to reconsider the oft-neglected Sermon on the Mount in Matthew 5-7. I began to ask myself some scary questions.
Like … what if Jesus really meant what he said?
Greg Boyd's Myth of a Christian Nation seemed to mark a major turning point in my thinking. I also thought that Lee Camp's Mere Discipleship was sobering. I read several other works by Anabaptist thinkers, and even visited with a plain Mennonite. Those were some intense times.
All of this happened within the last SBC church I served in as minister to students and education. I began teaching what I was learning, and I encouraged those in my sphere of influence to find a new identity in Christ and pledge allegiance to the Lamb.
I taught through enough of the Sermon on the Mount to prompt young people and a group of adults, on their own initiative, not to participate in the upcoming July 4th patriotic service. Their lack of enthusiasm was obvious to the entire church. And while I had purposely taken my vacation that Sunday, what transpired there naturally fell back on me and my ministry.
The very next Sunday, I was broadsided with, "What's this we hear about you teaching people not to say the pledge?"
The truth is that I never told anyone not to say the pledge. What happened that Sunday when the flag was marched down the middle aisle was the result of a small group of Christians connecting the dots. The events that followed resulted in my resignation and exodus from vocational ministry.
I don't regret it. It has been a defining moment in my journey with Jesus. And it has shaped me for the next season of ministry to the Body of Christ.
Please stop and consider how we evangelicals have been conditioned not to see any conflict between nationalism and Christian discipleship.
Will we allow another generation of our children to be taught that America is the hope of the world, or will we tell them the truth about a King whose Kingdom is not of this world, but is for this world?