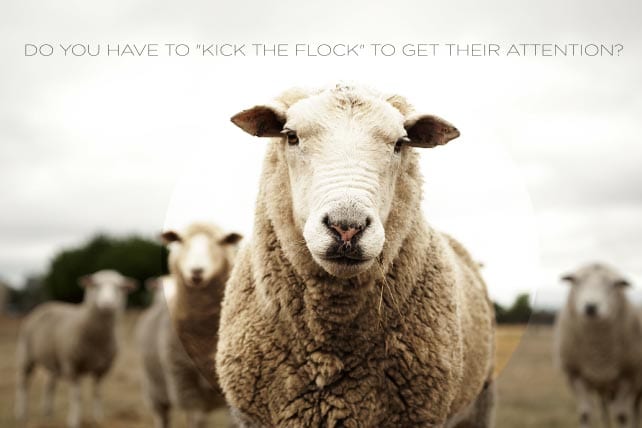 My kids are great. They teach me a lot; sometimes by kicking me. As toddlers, my two youngest sons made a habit of kicking me in the shin to get my attention after church. Having a talkative pastor as a dad isn't easy. When he's engaged in conversation with church members or visitors after a worship service, kicking him in the shin repetitively until he acknowledges you seems like a good idea.
Sometimes children get their way by demanding it. Sometimes we do too. Sometime we become leaders in order to get our way. We kick the flock in the shin demanding obedience rather than loving people to the point of influence. The biblical motif of leadership is clearly exemplary and sacrificial—in godliness.
Here is a quick look at three ideas found in I Timothy 4:12, where Paul is instructing Timothy in matters of Kingdom leadership. "Let no one despise you for your youth, but set the believers an example in speech, in conduct, in love, in faith, in purity." (ESV)
Paul tells Timothy to set the example. Whether a leader is young or old, new to leadership in a specific setting or seasoned in leadership across many settings, this primary rule of leadership never changes. Leaders who demand things they themselves don't live up to will always have stubborn flocks because the leader is setting a stubborn, unteachable example.
I've never met a donkey capable of leading a band of horses. Any stubborn fool can be in charge. Godly leaders lead by example.
It's easier to kick people in the shin and demand immediate obedience than it is to cultivate an atmosphere of desired participation, but the investment of time and prayerful energy creates a culture of Kingdom collaboration. When that kind of culture is established, it is easy to nurture. When it is not established, it is impossible to force. Set a godly example and others will want to follow you.
Kingdom leaders ought to be conduits of God's love. Whether you're dealing with volunteers on the mission field, nursery workers in a church, or local church employees and staff, love is a necessary ingredient in Kingdom leadership.
A leader can have every gift for communication, every skill, every talent commonly associated with leadership in the world, but if he doesn't have a genuine willingness to love those he leads sacrificially, he will always be kicking shins wondering why it is so difficult to elicit desired results.
It is possible to lead in love and still be respected. Jesus did it. While we can't possibly do it as well, love should be a primary ingredient in our leadership.
Sacrificial leaders garner dependability. Sacrificial leaders create an atmosphere of authentic accountability. You can threaten, you can demand, you can kick people's shins all day long, but you will never cultivate an atmosphere of authentic loyalty from those you lead without sincere love.
Finally, these things must be encapsulated in godliness. The Holman Bible Dictionary defines godliness this way: "Godliness is an attitude and style of life that acknowledges God's claims on human life and seeks to live in accordance with God's will." Whether you are a pastor or some other type of leader in the Kingdom, our responsibility extends well beyond securing obedience.
The purpose of Kingdom leadership is to foster an environment that glorifies God.
It's far better to show the sheep how to glorify God and foster a culture conducive to glorifying God than it is to kick them into obedience. Don't kick the flock. Get their attention by being a living example of godly character and love.