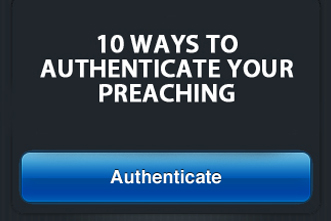 1 Cor. 9:24-27 – Do you not know that in a race all the runners run, but only one receives the prize? So run that you may obtain it. Every athlete exercises self-control in all things. They do it to receive a perishable wreath, but we an imperishable. So I do not run aimlessly; I do not box as one beating the air. But I discipline my body and keep it under control, lest after preaching to others I myself should be disqualified.
When I speak of adding context to your pulpit ministry, I mean adding authenticity to your pulpit ministry. If your church does not know you outside of your pulpit, it will be difficult to validate your message. Granted, if the Bible is the Word of God, it shouldn't matter who preaches it, so long as they're preaching what the Bible says, but your hearers often hear you before they hear the Scriptures. Also, if you're preaching to lost people or immature Christians, they will often read you more than they read Scripture. If your people know you, the man behind the pulpit, then they'll have a better basis for understanding your sermons, biblical interpretation, hobby horses, illustrations, etc. Furthermore, they'll have a better basis for believing your sermons as opposed to the TV preacher who tells them something different. In other words, it adds context to your message when you preach on the family and your church knows that you're a God-fearing husband and father. On the other hand, if an unknown person preaches, and the "context" isn't provided outside the pulpit, then the audience will either assume the best or the worst. These assumptions will largely depend on how grounded they are in Scripture, their own personalities, and whether or not they've witnessed hypocrisy in previous pulpits.
Moreover, if you read the qualifications for a pastor, many of them just describe who the pastor is to be in his daily life. If none of our church members witness our daily lives, how will they know if we're continually qualified to be their pastor(s)? Here are the qualifications Paul lists in 1 Timothy 3:1-7:
The saying is trustworthy: If anyone aspires to the office of overseer, he desires a noble task. Therefore an overseer must be above reproach, the husband of one wife, sober-minded, self-controlled, respectable, hospitable, able to teach, not a drunkard, not violent but gentle, not quarrelsome, not a lover of money. He must manage his own household well, with all dignity keeping his children submissive, for if someone does not know how to manage his own household, how will he care for God's church? He must not be a recent convert, or he may become puffed up with conceit and fall into the condemnation of the devil. Moreover, he must be well thought of by outsiders, so that he may not fall into disgrace, into a snare of the devil.
Here are 10 suggestions to help add context to your pulpit ministry:
1. Drive the church van. Driving the church van helps you build relationships with those onboard. Furthermore, it helps you gain more appreciation for a ministry that receives few thankyou's and many complaints. Take one week every month or two to drive the church van. (I drive the church van every worship service. I love those children!)
2. Help clean up after dinner. When we meet we must eat. For the purpose of showing a Christ-like example of servant-leader, you should do service type work that may not normally be your responsibility (John 13:1-11). The ratio between time spent serving and the context it will add to your ministry are minuscule. (I help clean up after almost every meal at church.)
3. Help the sick and forgotten. This is pure and undefiled religion (James 1:27). When you visit the sick, don't treat them like they have the plague. When you visit the nursing home, a place which often feels like death is in the air, show these people you care for them. How much physical brotherly-love type affection do these people receive on a daily basis compared to the amount you receive? It must be noted that you shouldn't get too touchy-feely with these people. Use your brain to help discern the personality of the person you're visiting. Some people are huggers and some aren't, but almost everyone likes a handshake (We're Baptists after all).
4. Alternate attending each adult Sunday school class and/or Discipleship Training class. Doctrinal fidelity in your church is your responsibility as pastor/elder (2 Tim. 4:1-5). (It's also the responsibility of the congregation: See Galatians). Thus, you should try to visit various Sunday school classes occasionally to examine what is being taught. Furthermore, from a practical standpoint, you will necessarily build relationships with the students in the class and the teacher(s). It must be noted here that you should be careful not to take over the class. Try your best to learn from who you're listening to. Regardless how many theology degrees I earn, or how many hours a week I study, God the Holy Spirit still uses the average lay Sunday school teacher to teach me His truth (The Priesthood of the Believer). Furthermore, these Sunday school teachers have context as well that adds to their lessons. One lady that teaches Sunday school in my church has been married for 68 years, been a faithful Christian for over 50 years, and probably knows more Scripture than I do. She's an excellent teacher. Finally, when you publicly thank your Sunday school or Discipleship Training teachers, you won't be speaking about something you know little about.
5. Teach a Sunday school class or Discipleship Training class. If you only preach from the pulpit, and your church is never allowed to ask you questions for the benefit of all listening, then you may be doing a disservice to your congregation. If you take the pastor-theologian emphasis in Scripture seriously, then you should share your Scriptural knowledge and experience with your congregation (2 Tim. 2:15). Your congregation has questions concerning Scripture, God, life, etc., and, depending on their personality, they may or may not come to you personally. They also may forget their question between the sermon and the door due to being forced to stand in line behind others in order to ask you a question. All pastors/elders should have some time when their congregation is allowed to ask them theological questions.