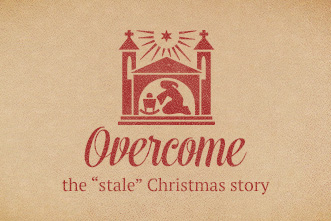 It's December. Shoppers and worshipers alike greet each other: "Merry Christmas!" "Happy holidays!" Maybe even (on Sunday),"Peace and joy!"
Me? I find myself pulling out my hair and shouting, "What? I have to preach the Christmas story again?!" Not to others, of course. Certainly not to my parishioners. But inside I do. How can I pull off another Christmas sermon? Come Christmas, I don't feel like preaching Matthew 1 or Luke 2. I feel like preaching Ecclesiastes 1:9: "There is nothing new under the sun!"
Recently, I paged through dozens of Christmas sermons by some of the "greats"—Augustine, Gregory the Great, Wycliffe, Luther, Calvin,and others. I wondered, how did they do it every year? Thankfully, I learned a few things about how one might preach on and plan worship around Jesus' birth over and over and over again. I pass along these preaching suggestions (with accompanying worship planning ideas), whether you're preparing your Christmas sermon for the 30th time, or, like me, you're wondering how to do it 30 more times.
"All Scripture Is Useful"
One helpful approach to preaching the story of Jesus' birth repeatedly is to broaden the range of Scriptures that might be preached over the years. "All Scripture is God-breathed and useful for teaching, rebuking, correcting and training in righteousness"—even at Christmas! The most typical places to go for the Christmas sermon are Matthew 1, Luke 2 and John 1. Throw in Isaiah 9 and, it seems, that about covers it. But the Scriptures are teeming with possibilities, even on a day with such a specific focus. The Revised Common Lectionary suggests a number of passages, and there are others you can use.
Worship Planning Tips
If you use one of these other passages, certainly read it along with one of the four familiar ones. One Scripture will interpret the other.

There are enough passages here to inspire sermons for a dozen years! You might actually want to open a computer file and enter the next 12 years' worth of sermon Scriptures and themes. Doing so will (1) take a weight off your own shoulders come December each year, and (2) impress your worship planning team—no more last-minute planning!

In a given year, you and other worship planners might brainstorm about the connection points between any one of these passages and the more familiar ones. For example, in Matthew 5:17, Jesus declares that he "came" to fulfill the Law and the Prophets. Where is that evident in the Christmas story?

Consider too how these "new" texts will stimulate the other worship planners in your congregation as they look for songs, prayers and litanies that have references and allusions to these other texts.