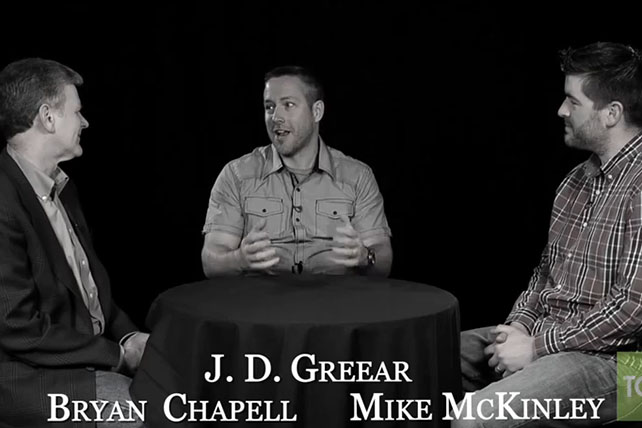 Anyone committed to preaching the whole tome of Scripture will eventually have to address parts that are either hard to interpret (who are the Nephilim, anyway?) or hard to swallow (Divorce? Remarriage?).  So how can pastors and teachers navigate those thorny parts of Scripture? In a video published by the Gospel Coalition, J.D. Greear, Bryan Chappell, and Mike McKinley participate in a roundtable discussion on this very topic.
According to Chappell, preachers and teachers have to be honest about their true readiness to communicate difficult parts of Scripture. And while he's not advocating you avoid these passages, but delaying for a time of further study may be prudent. We must be aware, says Chappell, that we are an information driven culture, and it's easy for a communicator to unwittingly burden people with layers of information. If this is the case then pastors and teachers must work to unburden people by showing the Christ-honoring application of the passage. Furthermore, there are passages that may seem overly repetitive in regards to a particular theme, but remember that the hearers of our lessons and sermons are at different situational locations from week to week.
McKinley counsels communicators that though we may not be emotionally enthralled with a passage, we must maintain confidence that God will use it. God will use things that may not impress us as preachers and teachers. God uses difficult to understand or difficult to swallow sermons to humble His people and for Him to get the glory. In conclusion, Greear reminds communicators to not become detached from the overarching storyline of the entire Bible, which is ultimately about Jesus. We don't "own" Scripture, rather we are stewards of God's Word who display the gracious precepts and promises of God.