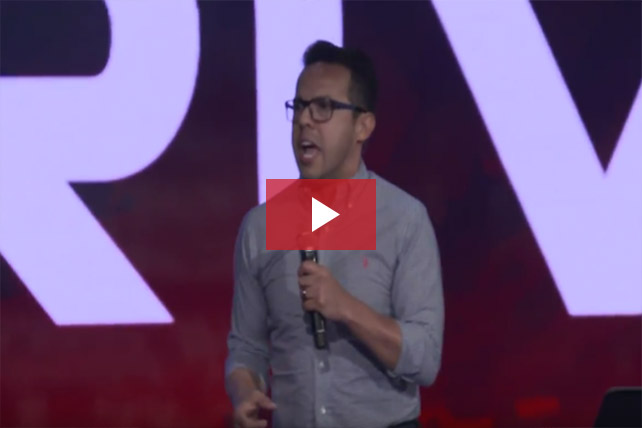 In his message to the Thrive conference, Pastor Sammy Rodriguez pulls out a practical truth about the nature of trials from 1 Kings 18.
1 Kings 18 is the passage where the land has been in a severe drought and Elijah is having his fiery show down with the prophets of Baal. The Lord tells Elijah that in the midst of the devastating famine and drought, he is going to send rain.
Rodriguez turns to personal application and asks the audience if any of them have been in a spiritual drought, a financial drought, or a relational drought. He asks them to raise their hands. Judging by the laughter and rustling of the crowd, a lot of people raised their hands.
The pattern of trials, Rodriguez points out, is apparent in 1 Kings 18. They go in this order: Drought, fire, then rain. Some of us, Rodriguez says, want to skip the fire part. Once we've been through drought, we don't want to experience this cleansing step that God uses to purify us.
Rodriguez admonishes us, though, that in the midst of drought and fire, we need to believe that rain is coming—just like Elijah did.
It's hard, though, in the midst of trials to believe that rain is coming. Sometimes we don't see God with us, in the midst of these hard times. Take the example of Shadrach, Meshach, and Abednego.
Rodriguez invites us into a thought: What if they didn't see the fourth man with them in the fiery furnace? Scripture tells us the king did see the fourth man, but there is no evidence in the text that suggests the three Hebrew friends saw him. Rodriguez concludes: When you are going through drought or fire, it doesn't matter if you can't see God with you in that moment.
"What matters is that whatever put you there in the first place acknowledges that God is with you. Because whether you see him or not, he is right there."