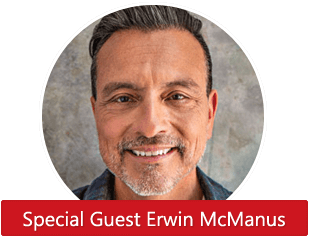 Erwin McManus discusses how to create a culture of creativity within churches and families and why creativity should naturally flow from our spirituality.
Erwin McManus is the lead pastor of Mosaic Church, a Christian community in Los Angeles, California which has been named one of the most influential and innovative churches in America. 
He writes and lectures on topics such as culture, innovation, creativity and leadership.
Erwin McManus is the author of national bestseller The Artisan Soul, Soul Cravings, Chasing Daylight: Seize the Power of Every Moment and An Unstoppable Force: Daring to Become the Church God Had in Mind.
Big Questions:
How did you help your children enjoy creativity when they were young?
What does your routine look like? How do you create space for creativity?
How can we create a culture of creativity if we are very creative?
What things to you see changing in the Church in the next decade?
Tweetables:
[Tweet "Artistry can be motivated by light, beauty and hope. @erwinmcmanus"]
[Tweet "We have a culture where fame equates to success instead of accomplishment. @erwinmcmanu"]
[Tweet "We have to leave room in our lives for unexpected interruptions of beauty and wonder. @erwinmcmanus"]
[Tweet "The best way to know if you are pursuing the right dream is that you enjoy the process, not the outcome. @erwinmcmanus"]
[Tweet "In 20 years it will be the common language of the church that creativity is the natural outflow of spirituality. @erwinmcmanus"]
Mentioned in the show
More from Erwin McManus on ChurchLeaders
Around the Web: