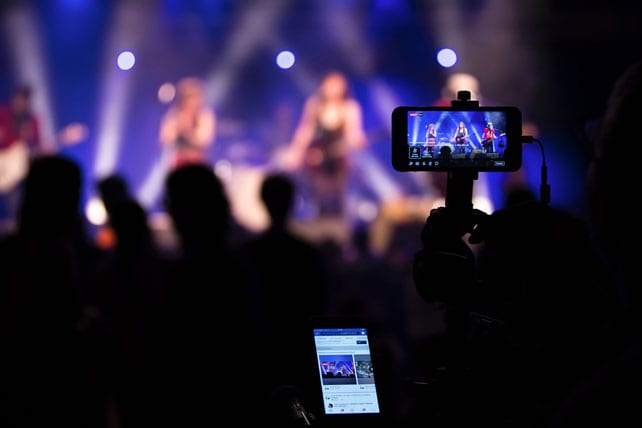 As an engaged couple sat waiting for their usually prompt pastor, they didn't know they were about to solve a problem they had no idea existed.
It was a summer evening in 2008. Their pastor was apologetic when he finally arrived to the meeting at his church just outside of Cincinnati, Ohio. He explained that he had been at a nursing home, playing back his sermons on a tape recorder for the residents who weren't able to attend church that week. The couple wanted to help, and with backgrounds in broadcast, technology, and production, they knew they could provide a streaming solution for this church — and for any house of worship — so that no community members had to miss out on being connected.
At the time, streaming was in its infancy. The couple knew that in order for streaming to work for their pastor, the process had to be simple, with no onsite buttons to push or switches to flip. The camera and encoder needed to work in tandem automatically and reliably every time, which was key to the solution the couple ultimately developed. By automating the process, including the recording, livestreaming, and content delivery of the broadcast, streaming became something that the church in the Ohio town was able to do without a dedicated staff and without major expense. And, to the couple's surprise, the solution they created for their pastor would begin serving many more who wanted a simplified streaming process, and StreamSpot, a robust streaming platform now used by houses of worship of all sizes across the United States and around the world, was born.
While promptness is certainly a virtue to celebrate, a pastor being ten minutes late turned out pretty well, too.
How does StreamSpot's automated streaming work?
The founders of StreamSpot had experience with streaming from their time working in broadcast television, but the development of automating the technology made the platform most useful for the growing need in churches. While StreamSpot customers can select whether they want their account to be placed in automatic or manual streaming mode, automating the streaming schedule is most popular among church customers.
Here's how it works: using a simple online interface in automatic mode, customers can schedule their broadcasts in advance of their events on a one-time schedule, which is great for weddings and events at church, or recurring schedule, for the same service at the same time each week. Customers also select where they would like each broadcast to appear, including popular destinations like Facebook Live, Chromecast, Roku, Vimeo, and iTunes for podcasting for true multi-platform delivery and syndication. The onsite streaming equipment is in constant sync with the customer's broadcast schedule, and each live broadcast starts and stops based on the defined schedule. Within minutes of the broadcast ending, an archive of the live stream is posted directly to the customers' player, which is typically embedded on their site for on-demand playback. StreamSpot also integrates seamlessly with most third-party players and apps including the Church Online Platform, Subsplash, JW Player, Flowplayer, and many more using custom XML, MRSS, RSS feeds or by integrating with StreamSpot's powerful API.
Regardless if you have 10, 100, or 100,000 viewers tuning in, StreamSpot's global content delivery network (CDN) can scale to meet the demands of any size congregation.
Is Automated Streaming Right For Your Church?
There are several considerations when deciding if automated streaming could benefit your church:
Equipment: StreamSpot integrates with the most popular encoding hardware and software available and can fully automate Open Broadcaster Studio, Wirecast, vMix, Flash Media Live Encoder and FFmpeg. For non-automated solutions, StreamSpot is available for popular mobile apps such as Teredek Live Air Solo, Wowza Go Coder, or Switcher Studio, which are low-cost options for streaming at your church using your existing phone or tablet. Whether you're working with equipment you already have, or looking to invest in equipment for your church, you can easily be up and streaming on the StreamSpot platform very quickly.
Staffing: For smaller churches without a dedicated media team, automating the streaming process is not only ideal, but completely necessary. There's simply not enough hands on deck or hours in the day to manage the church's streaming equipment, start and stop the broadcast, syndicate to the church's Facebook page, and manually upload an archive. Automation handles all of this seamlessly.
For churches with a dedicated technical staff, automating the streaming process still allows staff members to monitor the broadcast, while also giving attention to graphics, audio levels, and monitoring live statistics during the stream. Many churches with a dedicated media staff still say that automating their recurring streaming schedule to begin and end at exactly the same time increases precision for reporting their week-over-week analytics.
StreamSpot takes care of the streaming and allows you to focus on what's really important: your Ministry.
Budget: Streaming has become extremely affordable, particularly for automation. The StreamSpot Lite plan is $79 per month, while the StreamSpot Pro plan is $149 per month and includes the StreamSpot Sync® automation, plus countless great features and priority phone support every step of the way.
Ultimately, selecting to automate your streaming depends on the needs of your church. For one church in Cincinnati, Ohio, automated streaming created an important outreach for congregants who otherwise wouldn't have been able to connect, making a big impact on their ministry with minimal equipment investment, budget allocation, or staff interaction.