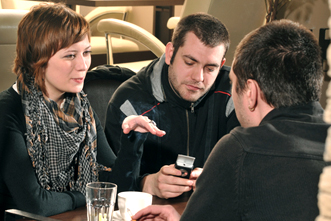 I was given the great opportunity of leading a couple of breakout sessions at the RightNow Conference in Dallas, Texas, this year.
Before the official conference launched, there was a pre-conference experience focused on small groups. With more than 300 people in attendance, it is, as far as I know, the largest gathering of (mixed model) small group point leaders in the country. And I'm convinced the future of the small group movement sat in those rooms, bounced ideas off of each other, networked and were challenged. And not challenged just to follow one small groups model, but to implement the ideas in their local church context.
I shared my thoughts on finding new small group leaders. I foolishly thought this would be a lightly attended breakout session … until I remembered almost every small groups pastor I talk with shares the same struggle of finding new small group leaders.
Here are my notes from my breakout session, followed by my slide presentation.
Finding New Leaders
If you don't have a leadership deficit (meaning you never have trouble with needing new leaders), then you may just have an evangelism deficit. So you having a leadership deficit points to the fact you're likely doing the hard work of evangelism, inviting those who are far from God to enter community. It also points to the fact you're casting the vision for small groups well because so many people are ready and willing to jump into group life.
Leadership deficits are a tension to be managed, not a problem to be solved.
Here are 5 principles I use in finding new leaders:
Lower the bar. The lower you drop the bar, the easier it will be to find new leaders. The higher you raise it, the more difficult it will be. Finding the balance is key.
Work on your vocabulary. Make sure the language you use when you describe your small groups doesn't intimidate potential leaders.
Your lead pastor must be your greatest small group champion.
Remove other competing systems that will take potential leaders away from small groups. Even leaders will often choose the easiest path.
Define your win. The "win" in your small groups system may look different than in mine, but you've got to know what a "win" looks like so you can be clear with potential group leaders.
10 places to find new leaders
Apprenticeship – Though this model produces new leaders who are fully ready to go when their feet hit the ground, getting those feet to hit the ground often takes too long. Depending on this model alone lends itself to a high leadership deficit in growing churches.
In current groups as they're ending – Have a conversation with the small group leader(s) as their group is wrapping up, and ask them who in the group could potentially lead in the future. The trouble with this, though, is group leaders often hesitate to take risks on unproven leaders.
Steal from other churches – Yeah … this was just a joke I shared that nobody laughed at.
"There's not a group that works for me …" – When you get this response from people, ask them if they're willing to lead a new group.
Start new types of groups – We started a small group aimed at new believers, opening up the door for potential leaders who, previously, didn't see themselves fitting into our small groups system.
Shame people into leading – Joke #2. Bomb #2. It was 1:00 … people were tired … and didn't feel like even giving me a courtesy laugh.
Staff members – Are there staff members who could lead a group?
Avoid burnout – Give leaders a season(s) off from leading. In that process, they can become refreshed, ready to re-enter group life when life slows down.
Get people around a table – Have a group of people who all want to meet on the same night, on the same side of town? Bring them together and lead them through the process of picking a group facilitator.
Alignment – The shorter length of time, inviting of friends and neighbors, and being handed a curriculum to start out with make this a great way to find new leaders who haven't stepped up to the plate before.