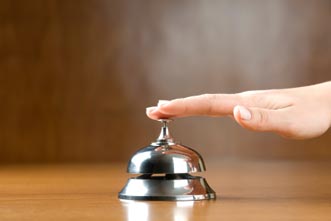 1. How do I get connected to a small group?
If and when someone comes to your Guest Services and asks this question, try not to jump for joy in their presence…but do have a solid, EASY next step for them. By solid, I mean one that is working, that will help them get to where they want to go…a loving, caring, learning, and growing small group. By EASY, I mean one that a 'never been to church before' person can find. We answer this question with, among other seasonal answers, an on campus large group that is easy to find as well as easy to connect with.
2. What classes are offered on campus for adult Bible study?
If you are a traditional church or your building looks like it might have Bible study on campus, this might be a question people will ask. When they do, know which classes are open, willing to not only let someone join them but will agree to walk with the person through life. Offer the class that will best meet their need and desire of a loving, caring, learning, and growing class.
3. What do our kids do while we go to small group?
This is one of the major concerns with families when they consider joining a small group. This answer needs to show trust and confidence in the childcare system your groups practice. It does not have to be a long answer but one that shows the family we have thought through this.
4. I am in a group but don't really like it. It does not fit me. What do I do?
You are probably smiling right now because if you are over the age of 12 you see the hidden baggage in this question. Well, maybe not always. But usually this question comes after some frustration with their current group. Be compassionate but directive in helping answer the person's question. Connect them with someone who will follow up with them, and be able to minister to them, but also check in on their previous group. This is about managing relationships as much as answering the question.
5. There may be a pointed question like, "I need a group that meets on Thursday" or "I am a single mother with 2 kids, got anything for me?"
If you have over 5 small groups in your church, this may be difficult to answer because you do not know all the details of when, where, and what. Spend as much time as possible getting to know the person so you can better answer their question. It would be easy to say 'no, we don't'…but you are there to help them get connected, not just give a definitive answer. Ask for their contact info, offer to research it, and get back with them within 24 hours.
Are your Guest Services Representatives ready to answer these common questions?