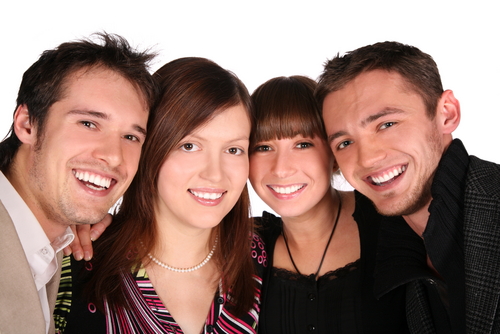 Note: This article has been excerpted from the SmallGroups.com training tool Foundations of a Small-Group Leader.
Author Donald Clifton said, "Relationships help us to define who we are and what we can become. Most of us can trace our successes to pivotal relationships."
My original idea for this article was to focus on accountability. As small group leaders, we certainly need accountability in our lives. But we need more than that. We need friends. And there are lots of different types of friends that we need in our lives to keep us balanced, challenged, and sane.
If we look at the life of King David, we see three types of friends in his life. First, he had friends that he hung out with outside the realm of his calling. Secondly, he had friends that he also led that were loyal to him to the death. Finally, he had friends that were willing to call him out and give him a good kick in the butt when needed. Let's explore his life and relationships today to gain some insight on the types of friends that we need to surround ourselves with.
Jonathan
The friendship of David and Jonathan is legendary. Jonathan was the son of King Saul and the rightful heir to the throne of Israel. He knew that David had been anointed by the prophet Samuel to become the next king, but he still became like a brother to David.
We read in 1 Samuel 18: "Now when he had finished speaking to Saul, the soul of Jonathan was knit to the soul of David, and Jonathan loved him as his own soul. Saul took him that day, and would not let him go home to his father's house anymore. Then Jonathan and David made a covenant, because he loved him as his own soul. And Jonathan took off the robe that was on him and gave it to David, with his armor, even to his sword and his bow and his belt."
Jonathan not only befriended David, but he protected David from his enemies. Later in the chapter, we see Jonathan working to keep David safe from the murderous spirit of his own father, Saul. What strikes me as interesting about their relationship is that Jonathan's rightful place of leadership and David's prophesied place of leadership never entered into their friendship. It was never an issue.
As leaders, we need friends that are just that—friends, with no leadership demands or expectations. I'm so thankful for people like Julie Schaer. Like Jonathan, Julie should have been my enemy (oh, the stories I could tell you from elementary school days), but we became close friends. Both of us are in places of leadership in our own spheres, but when we are together, it's just Julie and Heather. No demands, expectations, or pressures. Just people navigating life together.
I'm also thankful for people like Leslie Adams. We were friends before I became "Pastor Heather." But when that title came, our friendship did not change. Yes, we minister together and alongside each other, but our friendship leaves our church roles at the door.
Every leader needs a Jonathan—someone who recognizes the leadership gifts and calling inside of their friend, but doesn't allow that to be an issue in their friendship. These are probably the friends I am most thankful for.
The Mighty Men
Secondly, David had a group of 30 mighty men who were willing to give their life for him. They included guys like Abishai, who killed three hundred enemies with a spear, Benaiah, who chased a lion into a pit on a snowy day, and Eleazer, who killed Philistines until he was too tired to lift his sword anymore.
Let's read in 2 Samuel 23:13-17:
Then three of the thirty chief men went down at harvest time and came to David at the cave of Adullam. And the troop of Philistines encamped in the Valley of Rephaim. David was then in the stronghold, and the garrison of the Philistines was then in Bethlehem. And David said with longing, "Oh, that someone would give me a drink of the water from the well of Bethlehem, which is by the gate!"
So the three mighty men broke through the camp of the Philistines, drew water from the well of Bethlehem that was by the gate, and took it and brought it to David. Nevertheless, he would not drink it, but poured it out to the Lord. And he said, "Far be it from me, O Lord, that I should do this! Is this not the blood of the men who went in jeopardy of their lives?" Therefore, he would not drink it.
These guys were so committed and loyal to David's leadership that they took a whispered wish as a command. Let me throw out a little disclaimer here. I am not talking about surrounding yourself with only "yes men." I am talking about making sure there are people on your leadership team who are willing to give themselves to the path that God has called the team to walk.
What's interesting is where these mighty men came from. They weren't ready made leaders. In fact, they were pretty much losers. If we turn an entire book back to 1 Samuel 22:2, we find out who they were when David first met them: "Then others began coming—men who were in trouble or in debt or who were just discontented—until David was the leader of about four hundred men."
These guys were loyal to David not because they were yes men or had been specifically and uniquely trained for their calling. They were loyal to David because he had been a friend to them first. We need people in our lives who understand, and embrace what God has called us to, and are willing to jump on that team, and invest their lives into God's work.
Nathan
Finally, David had a friend named Nathan who was not afraid to confront David and steer him back towards the right course. We all know the story. David was at the wrong place at the wrong time, committed adultery, and then orchestrated murder to cover the sin. The prophet Nathan confronted David:
Then Nathan said to David, "You are that man! The Lord, the God of Israel, says: I anointed you king of Israel and saved you from the power of Saul. I gave you your master's house and his wives and the kingdoms of Israel and Judah. And if that had not been enough, I would have given you much, much more. Why, then, have you despised the word of the Lord and done this horrible deed? For you have murdered Uriah the Hittite with the sword of the Ammonites and stolen his wife. From this time on, your family will live by the sword because you have despised me by taking Uriah's wife to be your own…Then David confessed to Nathan, "I have sinned against the Lord."
We need people that will confront us, challenge us, and give us a good swift kick in the butt. Dietrich Bonhoeffer said, "Nothing can be more cruel than the leniency which abandons others to their sin. Nothing can be more compassionate than the severe reprimand which calls another Christian in one's community back from the path of sin."
As leaders, we need friends who recognize we are people in need of encouragement, correction, and rebuke that will point us back towards God and his path. This is where accountability comes in. Who has permission to ask you any question at any time? To whom do you confess your sins? Who is praying for you and confronting you when necessary?
Heather Zempel is Pastor of Discipleship at National Community Church in Washington, D.C., copyright © 2009.