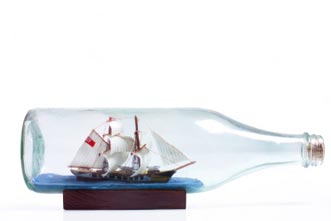 It sits in a prominent place in my office. When someone new comes in my office, they notice it and ask about it. If I carry it down the hall, staffers all around me will smile and ask, "Are you telling the boat story again?"
It started a few years back when we moved into a new neighborhood. Some of our new neighbors welcomed us into the subdivision and shared stories. One of the stories was about a neighbor whose property connected to ours. They told me about his wild weekends drinking beer and shooting his gun. They told me about him often yelling at his kids and wife. They told me to stay away from him. How comforting to know that my neighbors were looking out for my family and me. How trusting on God I just became with my family and property.
It was only a couple of weeks before I bumped into him, literally. I was trimming my lawn along our fence, and my weed eater hit something. I looked up, and there he was trimming his lawn right on the other side of my fence. Panic set in…was he going to hit me, shoot me, threaten me? What do I say? What do I do?
We both turned off our weed eaters, took our safety glasses off, and said hello. I introduced myself and stuck out my hand. He took his glove off and shook my hand and asked, "Are you a preacher?" (Now officially, I was not; I was a church consultant working on assignment for LifeWay Church Resources, and if I said 'yes' what would he do then?) So I said, "Kind of, what do you do?" He quickly responded, "I am a truck driver," and then began to share how his grandfather was dying in Florida and asked me to pray for him. He told me his grandfather had raised him in the absence of his father. So right there, we stopped and prayed.
I have to admit it was a prayer out of fear as much as faith. Here was an angry, hurting man reaching out. But that day, Randy and I began three-year friendship that never became heated nor went much deeper. Over the years, my family would host parties for our neighborhood, and Randy would drift through. We would help each other on backyard projects or talk about the kids. But we never really talked about church, prayer, Jesus until I invited his son to VBS. Randy came over and asked me, "What is VBS?" We sat on my front porch and chatted about church and VBS. As Randy was leaving, he looked back at me and said, "You know Eddie, I have never been baptized." I quickly responded with the words that the Spirit gave me, "One day Randy, one day."
It came time for my family to move back to Tennessee and join the staff of LifePoint Church. As the moving truck was packing our belongings in boxes, Randy came through the front door. He said he needed to talk to me about becoming a Christ follower. Immediately, we went out on the front porch, sat down, and talked. He gave his life to Christ. He then asked if I would baptise him. "Randy, it is Tuesday, and I am about to move. The truck is leaving by 3 p.m." It was 9 a.m. He said, "We can do it today!"
I thought about a neighbor's pool. I thought about our hot tub. I thought, "What is my pastor going to say?" Then Randy said, "I want to get baptized at your church."
I called the pastor who started filling the baptistery while we were still talking on the phone. He gathered the staff; I gathered my family and a few neighbors. We met at the church at 11 a.m., and Randy was baptized.
I returned home to finishing packing. Around 2 p.m., Randy came through our front door holding a model boat. He said, "I don't have anything to give you for all you have done. But I made this boat a few years back and would like you to have it. Would you take this as a thank you and a reminder of what you have done for me? Please don't ever forget me."
It sits in a prominent place in my office…as a reminder to love ALL my neighbors. God has a plan!