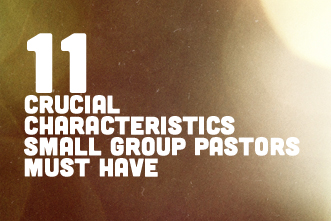 On about a monthly basis, I receive a request from a church for resumes of possible small-group pastors and even more frequently someone communicates with me wanting me to send their resume to churches searching for a small-group pastor.
This has forced me to seriously consider what makes someone a great small-group pastor.
From my perspective, the 11 essentials noted below would be my requirements if I were a senior pastor looking for a small-group point person.
1. Has had a definite calling by God to be a small-group pastor.
2. Someone who is humble enough to realize and accept they fall under the authority of the elders who have oversight of the church in which they are serving.
3. Embraces and adheres to the biblical expectations of an elder.
4. Is married to a spouse who has recognized and is on board with her husband (or his wife) serving sacrificially in the local church.
5. Believes wholeheartedly that transformation takes place best in small groups.
6. Is a visionary with the ability to see the future, living wisely in the present and creating and carrying out strategies that will someday make the vision a reality.
7. Knows how to and is willing to build and oversee a team of people passionate to make disciples through small groups.
8. Has a healthy work ethic. That is, someone who works diligently and wisely and isn't a workaholic.
9. Someone who is as passionate about discipling the small group he leads as he is about having oversight of a small group ministry.
10. Someone who spends time daily with God and is accountable to and seeking wise counsel from a select group of people.
11. Someone who understands or is willing to learn about and build structures and systems that are the skeleton holding the small-group ministry firmly in place.