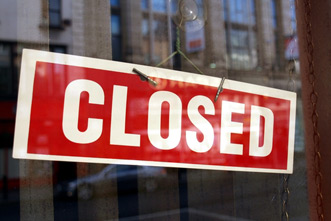 Currently, our government leaders are debating and haggling about what services to fund. It's a political wrestling match as we are well aware. Someone said, "When are these losers going to get their act together?" Sadly, regardless of your political affiliation, the real "losers" are needy people. Meanwhile many who are not dependent on government assistance or investment can laugh and throw stones. But a slowdown or a shutdown is a real letdown for so many. A government shutdown is indeed a crisis.
But today I realize I have avoided an even greater crisis in my life.
A Small Group Shutdown!
That's right. I cannot imagine the impact of such a thing if it ever happened. As I look at the small groups I have been a part of over the years, shutdown would have been devastating for me and many others I know – at least from the human side of things.
Here's what a Small Group Shutdown would have meant for me…
No connection with Jesus a leader, lover and friend
A disastrous marriage to someone who did not follow God
A misfire on God's moving me into a new career
I would have never learned the real power of the gospel
I might not have many real, lifelong friends – deep, genuine and "for me"
An undiscovered teaching gift
Participation in a weak church that had drifted from the truth
I might never have attended graduate school for theology
I would have missed seeing real prayer and real healing
My own prayers and gifts would lay dormant or underutilized for years
Serving opportunities would have passed me by
International ministry and service would have likely evaded me
I would have missed the support I needed for my marriage
Raising kids would have been a disaster
My personal pain and suffering would have had much less support
My 2nd and 3rd career moves would have been made without wise counsel
Might not have had close friends in the group become believers
Would have missed tons of personal growth, love, and truth-telling I needed to hear
And I could go on for pages…A Small Group Shutdown would have led to a personal Breakdown.
It is sad that some critics believe that "small groups don't work" and are not focused on making disciples.
Hmmm.
I guess I was just lucky to be in the only group on the planet that is an exception. I am sure the rest are just hokey little gatherings of bubble Christians hiding from the world and ignoring their communities.
Sure, like parts of the government, some need to be shutdown. But most, as far as I can see (and I have looked at these around the globe), are lifelines for people of all stripes and backgrounds. These little bands of spiritual transformation form the foundation for communal life and service. Maybe that is why Jesus spent so much time with His.
So today my headline reads, "SMALL GROUP SHUTDOWN AVERTED!" Whew! Am I grateful!