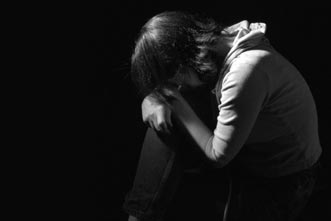 Early this morning I received a very sad email. I sat wondering, "Where is God in all this mess. Why? Why now? Why this man? Hasn't he suffered enough with his cancer and his many trials?"
It has been said, "All true community begins at the edge of suffering"
Before me sits a Bible, filled with stories of pain and suffering and redemption. These stories unnerve us, encourage us, and then remind us of things eternal. We become sober to the realities of life in a broken world. Still I ask, "Where is God when it hurts?" The answer should not surprise us. It is embedded in this email.
Here it is, edited and with names changed, but you will get the idea. This man is suffering with cancer that is rare and hard to treat. And then this email from his wife…
Good morning-
Yesterday, at about 4:45 p.m., Mike was rear ended, spun into oncoming traffic and then T-boned. He was in a small rental car that was totaled. He was taken to the hospital and into surgery just after 7. He remained conscious and calm. He was very cold – not in much pain, not scared. He kept telling me he wasn't scared, that he was ready, that he knew he was forgiven, saved by grace, and loved by his Father. We prayed a lot. He was mostly calm, always conscious, very well aware of what had happened.
The nurses were crying and rushing and more and more doctors and machines and nurses came. He had some deep lacerations to his head; he was bleeding. He was on a backboard, coughing, having difficulty breathing, frustrated with being strapped down and held in place. His spleen needed to come out and he had many breaks and fractures. His heart rate was too fast and his blood pressure too low. They gave him several units of blood.
They took him into surgery. He was brave! Our family and close friends joined us.
Tony, Sarah, Matt, Rachael, Mike's family, Ashton, Tammy, and Susan came and joined the wait. (His Pain Partners.) We were all able to go in, briefly, and see him last night. He was somewhat conscious and on a respirator to help with his breathing and had some staples on the back of his head. His color was good; he rested.
It is likely that his cancer treatment will be suspended while they address these issues. It's a lot to take in. He needs a whole lot of prayer and love and hope. His long road seems mighty long right now. Blessings and love, Karen.
Here is my edited reply to my friend who forwarded "Karen's" email to me.
Ug …this is very hard to hear at this point, Dave, but his life is being a witness to so many who are serving him right now in the hospitals – they are seeing Jesus in him and that is remarkable…Mike's broken life, and the community that surround him, is being used in powerful ways … I know that does not feel good to you and me right now, or especially to him or Karen, but it is true. A hard but real truth.
I lost my best friend at age 15 after he suffered for 3 years and died of spinal cancer. He was a Philadelphia Phillies fan so players would come visit him, as did others who, at the time, would never go to a church or read a Bible. But he had a strong faith for just a young teen. He talked to them about Christ, his future, salvation, etc. When he died, many remembered his short life but also his great faith. We were devastated, but I know it started me on a journey toward God, and helped others to strengthen their faith.
A young man in a class I teach has Cystic Fibrosis. He is being hospitalized (again) this weekend to treat lung infections with IV antibiotics. He is the same age as my son, and is aware of the degenerative nature of his disease. I could not imagine my son in that condition knowing his life will be a short one filled with suffering. It punches me in the gut every time I walk into the room.
But it has also driven me to prayer. And I have wept over this student, remembering that sin has broken this world and it took the death of Jesus himself to defeat its misery. So I have hope, and I am humbled, and I sit at God's feet and find strength. But I do not do it alone. In community we share the pain.
I am at a loss for answers as to why these things happen. I can only cling to what I know to be true. And that is what Mike and my student are doing. And I think I can guarantee that their many sufferings (which I would never wish on anyone) are being transformed into something beautiful for God's glory. So I pray and I weep. But I also hope… for a new world one day when all the "Mikes" of this world are dancing and singing. It is what I cling to in the brokenness.
Then I saw a new heaven and a new earth, for the first heaven and the first earth had passed away, and there was no longer any sea. I saw the Holy City, the new Jerusalem, coming down out of heaven from God, prepared as a bride beautifully dressed for her husband. And I heard a loud voice from the throne saying, "Look! God's dwelling place is now among the people, and he will dwell with them. They will be his people, and God himself will be with them and be their God. 'He will wipe every tear from their eyes. There will be no more death or mourning or crying or pain, for the old order of things has passed away." He who was seated on the throne said, "I am making everything new!" – Revelation 21: 1-5
Yes, make it new! For all of us. So that our partnership in pain will be transformed into a reunion of joy and gladness with the One who brings us home.
I recommend Phil Yancey's book, Where is God When it Hurts?