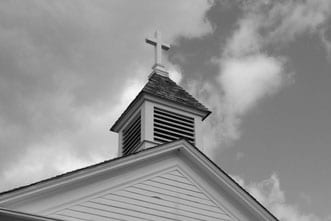 "And let us consider how we may spur one another on toward love and good deeds, not giving up meeting together, as some are in the habit of doing, but encouraging one another—and all the more as you see the Day approaching."
I don't think it was ever stated, but growing up, I was made to believe that the Sunday morning worship experience was the most important aspect of my walk with Jesus—that if I missed a Sunday, I'd probably be struck by lightning. This was unintentional, for sure.
It's just too easy for church leadership to slip into this mindset. Every Sunday morning is coming, whether you like it or not. So significant energy has to go into making sure Sunday happens. From sermon preparation to ensuring our worship team is going to be ready, from making sure the gathering room is clean to being sure we have offering buckets in the right spot to cones in the parking lot, it all has to be ready for the collective gathering of a larger group of people.
And without the Sunday morning experience, you won't have an (gasp!) offering. So Sunday mornings have to happen. And they're unbelievably important to our faith.
Without relational connection, the church isn't the church. And that's a major reason why I wrote Starting Small: The Ultimate Small Group Blueprint. The church isn't a building to be occupied by people once a week. You don't believe that, and neither do I. The church is us, the people. We are the ones for whom Christ died. Not our buildings. Not our hymnals. Not our pews. It's the people who are the church. And without relational connection, you don't have a church.
At one level, my church experience growing up was good. I'm so thrilled that I grew up in a church that taught the gospel. My childhood church believed in the death, burial, and resurrection of Jesus. The people shared this message with others. But at another level, it didn't work. My growth as a disciple happened outside of the scope of the normal way of doing life in my local church. My experience left me with more knowledge, but at the end of the day, the church was just a show. Not something that I actively participated in, but something I observed. I was a soaker—a sponge, entering the doors ready to be filled with water, rather than simultaneously emptying my sponge and soaking it back up.
It was after my junior year of high school that my spiritual life began to rocket forward. Every Friday night, a group of us guys would get together to study the Scriptures, pray together, actively engage in conversations about Jesus, hold one another accountable for our growth, and top it off with late-night runs to Waffle House. And occasionally throw rolls of toilet paper on the neighbor's trees. Thankfully, I've grown since then. Kind of.
It was incredibly freeing and life-giving. At no other point in my spiritual life had my opinion been truly valued like with that group. At no other point had I been listened to rather than preached at. At no other point had I felt so closely connected relationally to people headed in the same direction as me. If it hadn't been for that small group, I would in no way be who I am today.
We were living out Acts 2:42-46: "All the believers devoted themselves to the apostles' teaching, and to fellowship, and to sharing in meals (including the Lord's Supper), and to prayer. A deep sense of awe came over them all, and the apostles performed many miraculous signs and wonders. And all the believers met together in one place and shared everything they had. They sold their property and possessions and shared the money with those in need. They worshiped together at the Temple each day, met in homes for the Lord's Supper, and shared their meals with great joy and generosity."
For me, church never felt like Acts 2:42-26. Never. It was when I lived this out in the context of healthy relationships that I grew and became a disciple. Spiritual growth is so much more than information transfer.
If your church views spiritual growth as a process that happens simply through watching a show, it may not be Jesus followers that you're creating. Without healthy relationships, you can't fully honor God. Let's look at some of the "one anothers" found in Scripture:
– Be devoted to one another. (Romans 12:10)