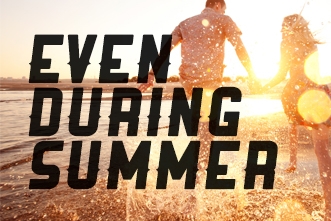 It's summertime. It's time for baseball, longer days, water parks and vacations. It's time for slowing down, throwing Frisbees, taking late night strolls, and having picnics. And it's time for small groups, because all the best stuff in life involves connecting with others.
Even if the formal meeting schedule for your group has changed for the summer, your group can continue to celebrate life together in creative ways. And it can continue to touch the world with God's love. The trick is to find ways that fit summer, fit your context, and fit your group. Here are some ideas for doing just that:
1. Prayer walk: Meet at one member's house and take about 15 minutes to explain the idea. Break into groups of three, head in different directions, and pray as you walk. Don't be obnoxiously loud. Just pray as you go. And listen to God's leading as you pray.
2. Host a picnic: Pick a neighborhood of one of the members and have a picnic. Invite neighbors to come. Ask them to contribute, as most people like to feel like they are participating.
3. Free oil change: This depends on having a group member who loves working on cars. Tell neighbors and friends to buy the oil and your team will change it.
4. Bible club for kids: Find a part of town where there are lots of kids, buy some basic curriculum and show up. The kids will love it if you love them.
5. Free hot dogs for kids: Pick an area of town with a high concentration of kids in families that struggle financially. Often these kids don't eat well during summers because they depend on the free lunches at school. Take a grill and offer free hot dogs. This works best when you are able to come on the same day for a few weeks in a row.
6. Yard service: If you know of a neighbor of a group member who is ill or older, serve them by mowing their yard.
7. Bag of groceries: Go shopping together, buying the basics that every family needs. Bag them up for individual families. Give the bags to families that you know are in need.
8. Serve a ministry: Identify a ministry in your town, like the local food pantry, a battered women's home, or a homeless shelter. Ask them if there are specific ways that you can serve their ministry.
9. Back to school block party: This activity would require the cooperation of the small group and the neighbors of one of your members. It would foster teamwork as it's not just something the group would do for others, but the group would collaborate with the neighbors.
10. Backpacks for kids: Many families cannot afford the school supplies needed for the upcoming year. Find out the areas of town where this is the case. Go shopping together and put the backpacks together.
These ideas are meant to serve as starters for your own brainstorming. There are a couple of basic questions that you can ask as a group to help you come up with your own ideas.
1. What gifts do we have in our group that can be a blessing to our community?
2. What needs do we see in the community?
Then pray. Step out, take a risk, and see what God does.