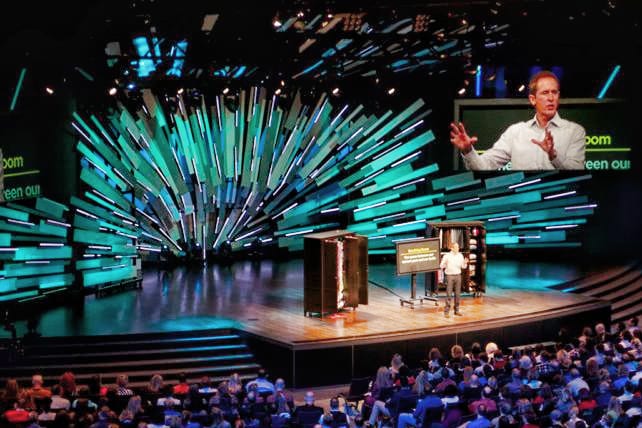 One of the churches you ought to be paying attention to when it comes to small group ministry is North Point Community Church (technically, North Point Ministries, which is their name for their six Atlanta churches and global network of more than 30 strategic partner churches). Led by senior pastor Andy Stanley, North Point has accomplished some amazing things and is on an incredible trajectory.
Full Disclosure: I have long admired Andy Stanley and the North Point team and strategy. A capstone statement Andy made in 2012 sums it up for me:
Let's say that something happens to me, all the staff, and all the buildings simultaneously explode. Let's make it worst case scenario. There's no staff. There's no buildings. And there's no me. Here's what would happen. On Monday, Tuesday and Thursday of the following week, thousands and thousands of adults would gather in homes all over the city and pray together, and do Bible study together and take care of whatever family members are left over and the church is going to go on.
Because at the end of the day, circles are better than rows. And from day one, we've been committed to creating a culture that's all about circles and not rows. We are famous for our rows. But the strength of our churches is what happens in circles.
Here are my top 10 reasons North Point has connected over 72,000* in groups:
1. Andy Stanley has consistently championed the importance of being involved in a small group. The champion role has never been delegated. In addition to the role of champion, Andy talks regularly about his own small group involvement and the difference it makes in his life (and his family's life). See also, 18 Great Lines from Andy Stanley and Your Senior Pastor as Small Group Champion Leads to a Church OF Groups.
2. They've had consistent point leadership in Bill Willits (Executive Director of Ministry Environments for North Point Ministries) for their entire 20 year history. One of six founding staff members, Bill has provided strategic leadership, helping their team to meet the challenges and dynamics of one of the largest and fastest growing churches in the country. Bill Willits is a featured speaker at GroupLife Southwest, a new small group ministry conference launching 3/27-28/16.
3. They have consistently kept a narrow focus and offered small groups as the lone menu item to connect people and help them grow spiritually. This is deceptively significant. The fact that they've never had to take apart a legacy system from a previous paradigm is more than the result of just turning 20 years old. In addition, they've made wise decisions based on their strategy (and not on sentimentality). See also, Narrowing the Focus Leads to a Church OF Groups.
4. They've consistently made getting connected easy, obvious and strategic. A quick look at their website easily demonstrates the win they've clarified. See also, How Would You Rate the First Steps Out of Your Auditorium?
5. They've had one numeric goal (to have 100,000 in groups) for 20 years. A singular focus has helped them determine time and again what is important and what is sideways energy.
6. They've prioritized small group ministry in their budget. Stanley has said their one numeric goal "has shaped everything. It has shaped everything including our budget. Your goals shape where the money goes. Groups is the best bet." As an example of their commitment to groups, recognizing the importance of the coaching component, they've staffed a "groups director" position that is essentially a coach to 60 to 80 small group leaders. They've also budgeted to help tackle the childcare challenge and offered reimbursement for childcare expenses for groups.
7. GroupLink (their connection event) is a powerful twice a year engine that connects unconnected people in massive waves. Although there are other ways to start groups and other ways to get connected, their focused energy on this twice a year strategy is like a laser beam. See also, Three Observations That Made Me a Fan of North Point's Closed Group Strategy and Distinctives of Three Types of Small Group Connecting Events.
8. They regularly use baptism testimonies and virtually all of them point to the significant role played by the small group in  spiritual development. This is not a new development. Recognizing the power of story-telling happened early and is a time-tested strategy.
9. They are committed to evaluation and regularly review their strategies and tactics for improvement. For example, after evaluating the length of time between when an attender begins to attend the weekend service and then joins a group by attending GroupLink (which has a 12- to 18-month commitment), they were concerned about the length of time and made a strategic adjustment. Adding a short-term group option, with only a 6- to 8-week commitment, shortened the time between beginning to attend the weekend service and joining a short-term group. See also, Breaking: North Point Increases GroupLife Participation by Adding an Easier Next Step and Three Important Distinctives of North Point's Access Group Strategy.
10. They are committed to acknowledging that results are directly related to design. Andy Stanley said, "Your ministry is perfectly designed to produce the results you are currently experiencing." Translated: Your results are not a fluke. They are produced by your design. If you want different results…you must change the design. This is always present in their thinking. They've relentlessly abandoned less productive strategies and programs (i.e., KidStuff and 7:22). See also, 5 Signs Your Small Group Ministry Design Is Inadequate.
This is my list of the top 10 reasons North Point has connected over 72,000 in small groups. Can I add a bonus reason? My bonus reason is likely to turn out to be very significant in the coming season. Recognizing that a different day is here (not just on the horizon), they've determined that in order to be true to their ambition (for everyone to experience life-changing community) they needed to make space in groups for people with a variety of lifestyles and theological beliefs. See also, Community for Everyone.
*North Point Ministries includes students and children who are in small groups.