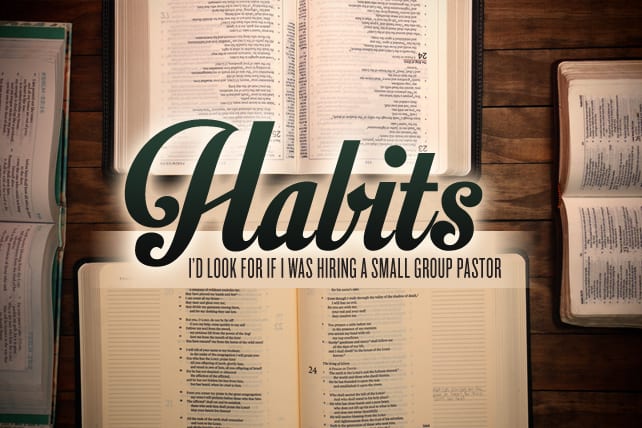 I've been asked many times for a small group pastor job description, and that is certainly one way to look at the situation. If I was a senior pastor though, I'd look at it from another angle. I'd try to figure out the habits and patterns that make for the ideal candidate.
Here are the five habits I'd be looking for:
1. A long-term pattern of doing life in authentic community. Remember, we can only expect the members of our groups to experience what their leaders have already experienced. Doesn't it follow that it's crazy to expect members to experience things that aren't modeled by the small group pastor? When you find the right candidate, they'll have stories about previous groups, deep friendships in every port and a desperate need for connection.
2. A habit of identifying, recruiting and developing high capacity leaders of leaders. Don't miss this one! Building a thriving small group ministry absolutely depends on the implementation and cultivation of a reasonable "span of care," and it's ludicrous to expect to build a significant ministry without high capacity leaders of leaders. The right candidate will be on the lookout for killers and fearlessly look for opportunities to ask them to join the life-change movement.
3. A pattern of making heroes of others. A clear indication of the right candidate is someone who regularly brags on the amazing stories of small group leaders who go above and beyond what is expected. A collector of stories, a great story-teller, quick to speak with pride about the life-changing accomplishments of others…is an essential attribute.
4. A habit of focusing on the end in mind and commitment to stay the course. A thriving small group ministry, a true church of groups, is built over the long haul. It is the result of persistent determination and steadfast resolve.
5. A pattern of working well in the background, giving the senior pastor confidence in promoting grouplife. This is an absolute essential. The best candidates are nearly anonymous…except to group leaders, coaches and community leaders.
The bottom line? The role of a small group pastor is not about being a figurehead or the face of small group ministry. It's not primarily about being an administrator or an organizer. And the role of a small group pastor is definitely not about being a personal trainer for small group leaders. What is it about? The role of a small group pastor is about commitment to building an army of ordinary men and women committed to life-on-life ministry; and that is the commitment that transforms whole communities…one life at a time.