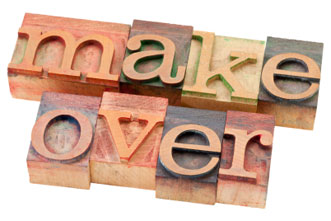 I use to be a fan of Extreme Makeover Home Edition. You know the deal… A team of experts find someone desperately in need of a new house. In a week they completely build a new place for the family to dwell in.
Sometimes our small groups need a new paradigm to dwell in. Let me give you a few tips so that may help with that.
1. Enlist new group members.
Every time someone new joins the group the group personality changes. And every time the group personality changes there is a sense of newness.
2. Change the setting.
A group that meets in the same place over and over and over again allows group members to settle into "their seat," take on their role at the meal, feel comfortable in their own little corner of the world and removes any sense of adventure. If you want to makeover your group, if the group is presently meeting in a home move to Starbucks, the local park, or a restaurant that allows a group of people to be together for a long time. Not only will your group feel different, your group will meet people who need to know the Jesus they're talking about.
3. Try a new Bible study format.
If presently using DVD driven use a conversational bible study or visa versa. If sermon based go to a curriculum piece based on the needs of the group, etc…
4. Subgroup more often than you normally do and/or subgroup with different groupings than you have in the past.
Anytime you allow people to converse in meaningful conversation with group members they have not spent as much time with, there will be a sense of newness. Just be aware… As you begin to subgroup in new and different groupings it will take time for the new subgroups to build levels of comfort that allow for the same kind of transparency they were experiencing in their old subgroups.
5. Change your meeting rhythm.
For instance… If everyone meets together weekly try everyone meeting together the first and third weeks of the month, women doing something social together the second week of the month the men doing something social every fourth week of the month. On the fifth week of the month get everyone together to do something missional.
6. Allow others in the group to lead a study they are passionate about for a period of time.
One of the members in our group went through training for The Truth Project. He asked me if he could lead the group for twelve weeks. We've had an incredible experience thus far and his personality, as it is very different than mine, has created a much different dynamic.
7. Determine that everyone is a possible small group leader and use moments during the meeting to prepare people to be leaders someday.
When group members begin to see themselves as future small group leaders they begin to experience the meeting differently than they have in the past. They realize there is much to learn and so they lean in throughout the meeting longing to be prepared to lead a group of their own. Once you have established that the group members will soon be group leaders, use the meeting time to teach them. For instance… after leading a group discussion, tell them the techniques you used to keep the conversation going, make sure the truth of God's Word was known and understood, etc…
8. If doing snacks go to a full meal.
The group I lead made this transition. We had been doing snacks at the end of the meeting for a long time. We then started doing a full meal prior to the start of the meeting. This greatly enhanced our group's relationships with one another and the amount of conversation that took place later in the evening.
9. Consistently partake of the Lords supper together.
When we focus on the wonder and power of Christ something amazing happens. Rather than group members being the centerpiece of the experience, Jesus is. Rather than seeking our opinions, we seek God's perspective. Rather than focusing on our own suffering, we view His and remind one another that the One who suffered most knows that we are suffering and has not forgotten us.
10. Add musical worship to your meeting time. This will freak a few people out but it will help in the makeover of your group. You don't need someone with a guitar and a voice like Keith Urban. You don't even need a guitar. Go to your local Christian bookstore and get a worship DVD or CD for the group to sing along with. I would suggest a DVD that also has the words scrolling across the screen.