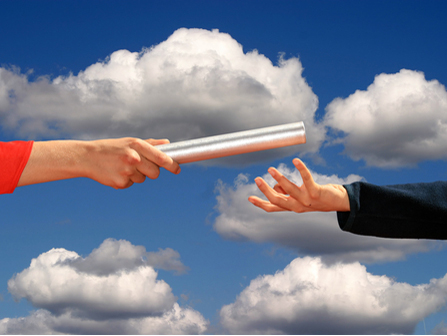 I read an e-mail from my friend, Kent. Kent leads a small group at our daughter church. In less than a year, his group has already successfully multiplied. In the e-mail, he said that his 'small' group wasn't small anymore, because they had 30 in group the night before. Then he said, "I guess it's time to multiply again!"
Wow! What an exciting challenge it is to lead a healthy, growing group. But the real challenge is to be sure to have developed the potential leaders of new groups in order to prepare to multiply. Successful multiplication will never happen without developing potential leaders.
"The principle job of the cell leader is to train the next cell leader-not just fill the house with guests." Joel Comiskey (1)
I have spent the last 30 years on a quest to learn how to mentor and multiply effective leaders. I started with the disciple making ministry of Jesus. I then studied the multiplying ministry of Barnabas into the life of Paul. I also read everything I could find on disciple making, leadership development, and cell ministry. I attended many seminars and listened to more tapes than I can count. I talked with effective pastors and Christian leaders. And like a mad scientist, I experimented.
I have come to see the steps, principles, and practices Jesus used for developing effective leaders reinforced again and again in ministry experience. I have taught these four steps for developing leaders to hundreds of pastors, Christian leaders, missionaries, and small group leaders.

1. Model it.
Have them watch as you do the ministry, just as Jesus did with His disciples (Matt. 9:32-38). Let them see a highly effective small group leader in action. When Paul and Barnabas were sent out to minister, Barnabas was the leader. Barnabas was doing the ministry, and Paul was observing. Note how they are listed as "Barnabas and Paul" (Acts 13:1-5).

2. Mentor it.
Have them do it as you watch, assist, correct, and encourage, as Jesus did with His disciples (Matt. 10:1). Not long into their journey, Barnabas moved over to give Paul the opportunity to lead. Note that they now were listed as "Paul and Barnabas" (Acts 13:6ff).

3. Motivate it.
Have them do it as you encourage from a distance, as Jesus did when he sent them out two by two without Him (Matt. 10:5). Similarly, when Paul and Barnabas prepared for another missionary journey, Paul was ready to go on his own (Acts 15:36-41).

4. Multiply it.
The original disciples multiplied out to a total of 70 (Luke 10:1), then perhaps 500 (1 Corinthians 15:6). After Jesus ascended to heaven, the number of disciples began to multiply to 3,000 (Acts 2:41), then 5,000 men (Acts 4:4), then so many that the Bible simply says the number was multiplied (Acts 6:7).
In like fashion, Paul was soon ministering without the help of Barnabas and beginning to take others, including Silas and Timothy, through the process (Acts 15:39-41; 16:1-3). By Acts 17:14, Paul left Timothy and Silas to minister in Berea on their own.