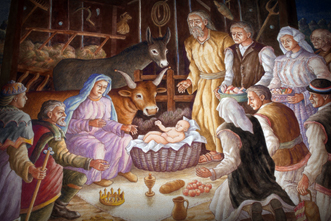 Are you looking for some unique ideas for your small group this Christmas? This year, we started something different at our church. We call it the Christmas Covenant, and some of our small groups are making it a group effort to keep Christ at the center of Christmas this year. Here is what we are committing to:
As a family/individual, ___________ will seek to make Christ the center of our Christmas holiday celebration by…
1. Creating a modest budget and committing not to buy any gifts on credit

2. Serving the poor at an outreach (our church does a food distribution and partners with the Salvation Army for bell ringing)

3. Reading the Christmas story, Luke 2:1-20, on Christmas Eve and asking, "What's the greatest gift Jesus gave you this year?" and ending in prayer

4. Creating a "savings jar", saving money from Thanksgiving until Christmas Eve; bringing the savings to Hope Summit's Christmas Eve services to be given to our missions project

5. Making a gift "from the heart" for someone that cannot be purchased
You may want to consider something similar for your small group. Merry Christmas!