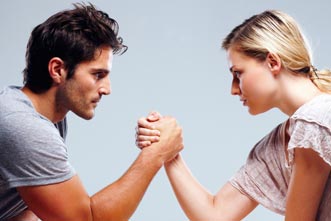 Acts 15 records the conflict that took place between Paul and Barnabas and a group of men from Judea over the issue of whether or not Gentiles should be circumcised. You think you have tough conflict issues to resolve, how would you like to deal with that one? But there are six valuable lessons on conflict resolution we can glean from this passage:
1. Hear Both Sides of the Story – Paul and Barnabas reported how God had used them to see the Gentiles converted. Believers who were part of the party of the Pharisees explained how the Gentiles must be circumcised and required to obey the law of Moses (Acts 15:2-5). The apostles and elders heard both sides of the story.
2. Engage in Discussion – Next, the apostles and elders took time to discuss the matter (Acts 15:6-7).
3. Present the Facts and be Sensitive to What God is Doing – After much discussion, Peter addressed the crowd by drawing the crowd's attention to the facts … the work God was doing among the Gentiles and the reality that God had accepted the Gentiles by giving them the Holy Spirit (Acts 15:7-11).
4. Provide Supporting Evidence – Paul and Barnabas shared about the miraculous signs and wonders God had done through them among the Gentiles. Then, James spoke up and quoted the prophets to confirm the work of the Spirit among the Gentiles (Acts 15:12-18).
5. Based on the Facts, Articulate a Responsible Solution to the Conflict – James said: "It is my judgment, therefore, that we should not make it difficult for the Gentiles who are turning to God. Instead, we should write to them, telling them to abstain from food polluted by idols, from sexual immorality, from the meat of strangled animals and from blood. For Moses has been preached in every city from the earliest times and is read in the synagogues on every Sabbath" (Acts 15:19-21). The solution was based on the facts. However, the solution also did not ignore the Gentiles' responsibilities.
6. Put Together a Communication Strategy that Brings Clarification – After the solution was articulated, the apostles and elders put together a team to deliver a letter to the Gentile believers in Antioch, Syria and Cilicia. The letter brought clarification to the entire situation and provided a solution.
Question: Which of these principles is the easiest to forget when you're trying to resolve conflict? What other strategies or ideas have you found helpful in conflict resolution?