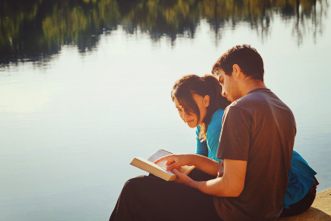 In Brad Waggoner's book The Shape of Faith to Come he tells us that research has shown that one of the primary necessities for the individual that is going to become a mature follower of Jesus is reading the Bible daily. He also points out that 16 percent said they read their Bible every day. Another 20 percent read it "a few times a week," and 12 percent read it weekly. Why is that? Why is it that if we polled our small group of ten only half of them would be spending significant time finding out who God is, what God has done for and is willing to do for those who are His children, and what the future holds for all of us?
I believe there are five reasons that believers today overlook the most important work ever written, the book given us by God Himself. I'm going to dive headlong into each of them in this article. I'll also give a few practical ideas that may help you get your small group members to study the most important document ever given humankind.
1. Deliberate Distractions.
Our culture offers many, many distractions. Let's face it, there are screens to look at… TV's, computers, iPads, Kindles, and those tiny cell phone screens that allow us to text till our fingers bleed. According to the A.C. Nielsen Co., the average American watches 28 hours of television per week. But when you ask your small group how many of them read their Bible and how many days this week they did so, it is disappointing to say the least. Most will say they "just didn't have time."
There are distractions for sure, but they are deliberate. Each of us gets to decide what we will do with the hours beyond work and sleep. For most of us, reading the Bible doesn't even make the list. We've been reminded by our senior pastor from the pulpit, we've discussed it in our small group, and if your group members are in a healthy accountability group or are being mentored, they're getting an ear full every week. Once we know what we should do, if we allow other distractions to trump daily revelation of God through the reading of His Words found in the Bible, we are doing so deliberately.
Instead of calling this post "Deliberate Distractions" maybe I should have termed it, "Predictable Prioritizing." The truth is, whatever we love most we will make a priority and it seems many of us subconsciously "love the things of the world"more than we love God. Culture has taught us to love "the things of the world." But scripture says, "love not the things of the world…"You may be thinkin'… Dude, Howerton has turned into a closed-minded separatist wishing all of us would cloister together in a commune and chant.
Please don't misunderstand me. I'm not suggesting that watching television (or enjoying things other than studying the Bible) is wrong. What I am suggesting is that choosing any distraction over daily time knowing the heart of the Deity is at best, a poor choice.
So, how do we help our small group members "realize and replace" distractions with time in the Scripture? A few suggestions…
1.

Give each of them a 3 by 5 card at your next meeting. Ask them to write down how they spent each hour of every day all seven days between meetings. At your next meeting make your Ice-Breaker question, "So, what did you do with the hours you had when you weren't at work or sleeping?" Then talk about prioritizing time in God's Word.

2.

Suggest they put time with God in their day-timer. Few people miss appointments if the appointment has a specific time noted in the daytimer.

3.

Ask group members to do a heart check. Have group ask God to reveal to them who and/or what they love the most. Please know that there's a huge difference between a head check and a heart check. Nearly every group member knows in their head that they should love God above all other passions. But when it comes down to it, when we allow God to tell us what we truly love most, boyfriends, girlfriends, golf, American Idol, or a plethora of other idols often takes first place. Remind the group that each of us gives our time and attention to that which we are most in love with.