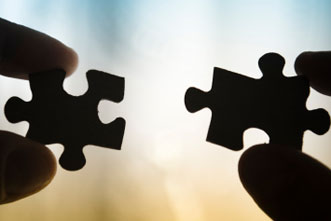 Don't we all long to be a part of something fun, exciting, and life-giving?
The sitcom Friends captured this desire. Every week, 50 million people watched six actors pretend to have relationships with one another. Its popularity was fueled by the deep longing we all have to be connected in community.
The advertising world has caught on to this yearning as well. MCI promises to connect us with "friends and family." The felt need is clear. But the real need is found in the biblical word, koinonia, which means "fellowship." God's plan from the beginning was that each one of us would belong to a spiritual community, where we all would be known and we would know others.
How can we create a community like this? How can we connect with one another?
Here are seven principles to help you CONNECT with the people in your group and to help them connect with one another:
1. Create a "one-another" community. In the New Testament there are more than 50 different references to "one another": love one another, bear one another's burdens, pray for one another, serve one another. This can't happen only on Sunday mornings; it needs to happen in other settings, like small groups.
Once you've invited your circle of friends and they show up, remember you don't have to be a Bible scholar to create a one-another community. Your job is to ask the questions, look around the room, and wait for someone to respond. When someone voices a response, affirm them, no matter what they say. Don't feel like you have to answer every one of the questions yourself. It's like a ping-pong game: just get it started and keep the ball in play.
Another way to create a one-another community upfront is to schedule socials and meals together. Pull families together and get to know each other. Schedule casual gatherings, like a pizza dinner, before the meeting starts. During this time, your group has time to check in on prayer requests. Throughout the six weeks, rotate homes, so that people embrace the group as their own.
2. Open your heart. Being authentic lets your group know you don't have it all together either. When we communicate openness, that makes it safer for everybody else to be open as well. It's healthy to say, "You know, that's a good question. I don't know," or "I'm not sure."
You are the role model, and they'll follow your example. When you're authentic, your group will be more authentic.
3. Naturally group members together for deeper discussion. It's important that every meeting permits discussion time. When your group gets larger than seven, it's more difficult for everyone to share. So break into discussion groups of three to four people. The more airtime an individual has, the greater the life application – and that's when you'll see lives transformed.
Also, this allows time for people to share prayer requests. You don't want to get halfway around the room during prayer request time and suddenly say, "Oops, we ran out of time." Break into smaller groups so you have time to share prayer requests, as well as pray for one another.
Remember: When people feel heard, they feel loved; when they feel loved, they return; and when they return, life transformation happens.