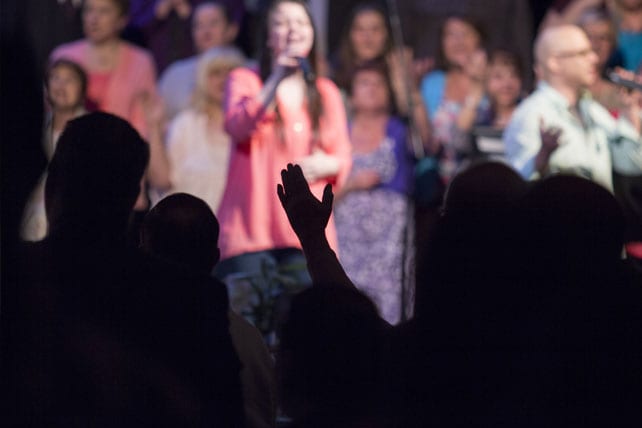 Is it possible for a church with a history of a traditional music program (choir, organ, hymnals, handbells, and the like) to embrace modern forms of music (bands, vocalists, projected lyrics, and worship teams) without the traditional music dying as a result? Yes, it is possible. That's what my church, our congregation, our choir, our instrumentalists and I have been pursuing for years. We've been pursuing a model of worship called called "convergence." Maybe you call it blended worship.
Blended Worship Services
It allows for vibrant traditional music and vibrant contemporary music, and it puts them together in one combined expression. Choir plus singers. Organ plus band. Traditional plus contemporary. Sixth century plus 21st century. Liturgy plus spontaneity. We can play ping-pong when it's called for, but we play together most of the time.
This "convergence" model accomplishes several things:
1. It's faithful to our past.
2. It builds a bridge to the future and to those from outside our traditions.
3. It's a picture of the body (independence and interdependence).
4. It's alive and messy and risky and new and exciting.
5. It's about addition, not about subtraction.
Most importantly:
6. It demonstrates our unity in Christ.

What does this blended worship model mean for a traditional church choir?
This model embraces the choir and calls them further up and further in. Is it different? Yes. Is it the traditional model? No. Is it calling more or less out of the choir than before? More!
In this model of musical "convergence," being a member of the choir is not just about singing the anthem. It's about singing and leading all of the songs in a service from beginning to end. From the call to worship to the final hymn. Every note of every song being an opportunity for the choir to fulfill a worship leading role, a congregational-singing-cultivating role, a visible role, an audible role and a pastoral role. From challenging repertoire, to simple liturgical responses, to contemporary songs that will only (and should only) be in our repertoire for shorter seasons, the choir is being called to be an integral worship leading presence on all of it.
Here's the kicker about "convergence":