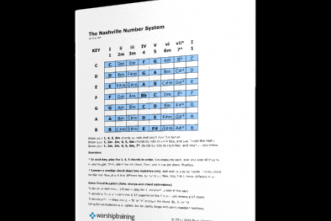 Free eBooklet
Download and share this free eBooklet in PDF format with your worship team, "The Nashville Number System Chart For Bands" by Dan Wilt.
From the author, "You've probably had the experience – you're in the middle of a rehearsal, and you need to change the key of that song. "Should I or shouldn't I?" you silently ask yourself. You must. You simply must. So, sheepishly you suggest that the song must be put into a different key. You brace yourself for you band's reaction – and you really wish you had this chart to give them."
Resource provided by Dan Wilt
Download Instructions: To download this resource, follow the on-screen directions at the download site.