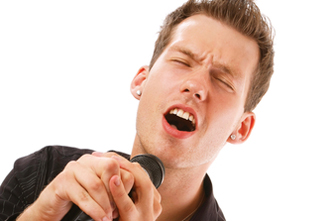 Paul Baloche's song, "Open the Eyes of My Heart," has been sung by millions of Christians throughout the world. It's a song based on Ephesians 1, asking God to open our spiritual eyes that we might know him better.
But I wonder if those of us who lead congregational worship shouldn't be asking God to open our physical eyes, too.
Why do leaders close their eyes so often? Not just for a few moments, but for 5, 10, even 15 minutes. I've seen leaders and vocalists keep their eyes shut from the first note we sing to the final "Amen" of the closing prayer.
There are definitely some good reasons to close our eyes. We want to shut out distractions. We want to focus completely on the words we're singing. Our hearts are deeply moved by God's mercy and we respond in humble adoration.
But are those the reasons we usually have in mind when we close our eyes? Are we even thinking about what we're doing? Or why we're doing it?
Maybe you're like me. Maybe you find yourself closing your eyes when you lead for one or more of these not-so-good reasons.
We want to look spiritual
We think the Holy Spirit likes closed eyes more than opened eyes
We don't want to look at the faces of people who seem apathetic, concerned, confused, or angry about what we're doing
We're battling fear of man and the easiest thing to do is just pretend that no one else is around
We don't want to see who walks out of the room
We're discouraged by the dwindling number of people showing up on Sundays
We're imagining that this is our own personal encounter with God
We don't remember the words to the next verse
We can't think of anything better to do
Not to mention that worship leaders who shut their eyes sometimes look more like they're in pain than in God's presence.
Corporate worship has a horizontal aspect that glorifies God. We're to teach and admonish one another while we sing "psalms, hymns, and spiritual songs" (Col. 3:16). We're to "strive to excel in building up the church" (1 Cor. 14:12). At the same time we're singing with gratitude in our hearts to God and very aware that he's present with us. Both directions — horizontal and vertical — are important to consider if we want to benefit fully from our time together.
That's why I've come to think that more often than not, it's better for me to keep my eyes open when I'm leading people in singing God's praise. It's not that I don't ever close my eyes. I do. It's just that in recent years I'm becoming more aware of the good reasons to keep them my eyes open:
I can see how people are responding (or not responding) and adjust what I'm doing accordingly
It's easier for me to communicate to people how the truths we're singing are affecting me when I look at them
My heart is encouraged when I see people who seem to be genuinely engaging with God
I can share the joy in Christ I'm experiencing by looking at the other musicians
I can communicate directions more clearly to the team
I'm more aware of what's happening around me
I can see what I'm playing on the piano
I can read the lyrics to the song
Don't hear what I'm not saying. There are plenty of legitimate reasons to close our eyes when we're singing songs of praise to God. I just don't think Scripture says that has to be our default.
To put things in perspective, having our spiritual eyes opened is far more important than having our physical eyes opened.
But maybe it would help us and those we lead if we did a little more of the second.