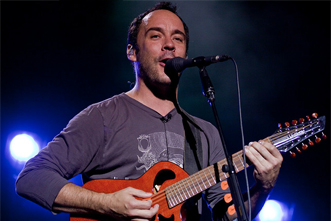 As I've mentioned here several times, I love all kinds of music, but in every genre there's music that I think is fabulous and music that I will not be visiting a second time. I do have strong opinions about art and music, I just don't limit my preferences to only one variety. Don't ever follow me through a street fair where there are live musicians, because you'll spend 30 minutes at every loose trombone player and accordionist's cup listening to their entire set. I just don't know how to walk away from a working musician.
When I first "discovered" the Dave Matthews Band, I was mystified. How could one group engage so many people who typically only like and listen to one kind of music? Dave Matthews has fans that think they're listening to a rocker—Their Rocker! He has fans that think they are listening to a jazzer—Their Jazzer! I dare say, some folks might even think he's a Blue Grass genius—Their Blue Grasser! We could go on … including Native American music, World Music, Country, and Sacred, much like Creed and U2. You might try to pin down Dave, but at your own risk.
Whatever you do, don't start listening to his music—it could ruin your life! It's addictive, but, at least it's an addiction you can talk about with casual acquaintances! If you're already a fan, I bet you would like to shake his hand and spend a few minutes telling him how much you like his stuff. Two summers ago, I got a chance to do just that. My friend, Hugh Ballou (whose brother-in-law was playings keys for Dave at the time), arranged for us to get VIP passes for the band's Hollywood Bowl concert. Now, a VIP pass let's you go anywhere, eat with the crew and rub shoulders with the stars!
We hadn't been back stage two minutes before my colleague pushed me into Dave's dressing room to say Hi! Yes, it was a little awkward, but Mr. Matthews was very gracious and spent a few minutes with me comparing kid's photos and apps on our iPhones. Very cool.
The concert? It was absolutely one of the best arena type events I've ever witnessed. I was yelling and screaming right along with the outrageously loud "Band-Fans." When we walked away that night, I realized that I had had a great lesson on how to make worship more powerful, and it didn't have anything to do with the million or so dollars worth of media tech equipment that was needed to pull that show off night after night. It was a about some values that were invisible. Here they are…
1. Be the Best
The quality of music making on that stage was as high as any symphony orchestra's standards in the world. It's clear that DMB cares about doing it right.
2. Be Versatile
The range of music presented and the constant and subtle change-ups in style and presentation meant that a 2 1/2 hour concert seemed way to short! We all wanted more.
3. Stay Away from Things You Can't Do Well
Every piece programmed that evening was flawless. The DMB doesn't wander off in any directions where they can't deliver.
4. Change It Up
The final play list for each concert is put together by Dave Matthews one hour before each show. There is a basic set that they will probably perform, but he is not so rigid that he must perform it every night.
5. Never Let Go of the Room
A really good artist is constantly reading the room and making sure folks are still engaged. It is, in point of fact, the job of the artist to read the room. The room even wants to be read!
I will leave it to you to come to your own conclusions about what Dave's values have to do with your worship service, but, trust me, they do.
Used with permission by ChurchCentral.com. Photo credit: Justin Pollock.