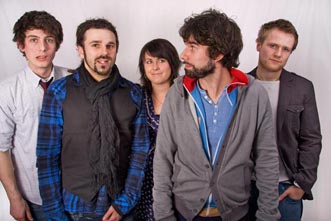 It was the great theologian A.W. Tozer who said, "Without worship, we go about miserable."
Now isn't that the truth?
Really, there's nothing more refreshing for your soul than simply praising God, whether you're musically challenged like me and prefer singing with your congregation on Sunday morning or wholeheartedly embrace the "make a joyful noise" notion while enduring your weekday morning commute.
And when it comes to the actual worshipping part, the sky is really the limit, too. While some people like praising God the way David did with dancing and a slew of instruments, others prefer more quiet contemplation or singing hymns with a simple piano or guitar in the background.
But whatever your pleasure, God enjoys the praise of His people all the same, and I'm thinking He probably appreciates the diversity of the artists who are writing the songs with the global Church in mind these days.
Now, with no further adieu, we're highlighting what's new on the modern worship scene, so you can be inspired to praise God the way you like best.
Going Organic
After serving up modern Brit pop/rock with his band Telecast, Josh White recently broadened his musical horizons and released his first solo project, an organic worship album titled Achor (BEC).
Inspired by his home church, called Door of Hope, that's located in the decidedly hippie Hawthorne District of Portland, Oregon, Josh's folksy bluegrass tracks have become the soundtrack of their Sunday morning services.
"There is a prophetic element to worship; it is necessary and powerful. Hearts open through music, stirring emotions and inserting a message into hearts," Josh says. "These songs come out of what we're experiencing at Door of Hope; they are part of a movement to turn this city upside down."
As for the album's unusual moniker? Well, that comes from a passage in the book of Hosea. Turns out, the valley of Achor is known as a valley of trouble and was named that after Achan's sin was discovered and judged in the days of Joshua. But the prophet Hosea proclaimed that God's restoration would transform the valley of trouble into a door of hope, which is particularly fitting because that's Josh's hope for Portland, too.
Hillsong Goes Acoustic
Employing the Biblical "ask and you shall receive," you spoke and Hillsong listened with its first acoustic album, Yahweh.
Recorded in response to the requests of churches across the globe, Yahweh showcases the beauty of simplicity by featuring stripped-down renditions of everything from "Mighty to Save" to "Hosanna" to "From the Inside Out."
The release of Yahweh is also significant because it marks the first recording from Hillsong Chapel, a new series of intimate, devotionally minded arrangements of Hillsong's popular songs that have been led by Hillsong United and Hillsong Live worship leaders.
Rising from the Ashes
Charlie Hall's latest album, The Rising, is all about finding hope in broken places.
But before you assume that it's a downer of an album, you'll definitely want to think again. While Charlie has never shied away from the more complicated facets of faith in a fallen world, there's an equally joyful tie that binds the album together.
Whether he's setting the tone for the project with the heartfelt ode to "The God that Saves and Heals the Broken" or weighing the cost of what it really means to follow and walk with Jesus in "Ransom," each track provides plenty of food for thought while allowing for meaningful moments of worship.
"The journey of songs that form The Rising come from the pursuit of God in everyday life and God's pursuit of us," Charlie says. "Much like the Psalms, these songs speak of the ascension to and the embrace of God inside the intense, peaceful, and mundane places in life and all the emotions that fill those spaces."
Worship with a Creative Spin
Imagine for a moment if Sufjan Stevens recruited a group of likeminded musician friends and made a worship album. Well, chances are that would probably sound something like The Rend Collective Experiment's Organic Family Hymnal.
Trying to make sense of life, God, and community in their native Bangor, North Ireland, Rend Collective Experiment serves up contemplative praise songs that are creative, compelling, and challenging.
"Everything we do is growing in a natural, non-manufactured environment," Gareth, the group's front man shares. "About three years ago, we all came to the agreement that we needed to go and invest in our respective local churches – and the Collective really grew out of that. We wanted to package what God was doing – and has been doing – and offer that up for the rest of the world to hear."
And trust me, anyone who listens will be great they did.
A Time to Mourn, a Time to Dance
To say that worship artist Aaron Crider has had a challenging past few years is a major understatement.
In addition to facing financial hardship, he and his wife have grieved the deaths of several family members, lost a set of twins to miscarriage, and a son in early labor. Basically, if anyone understands the "a time to mourn" mentioned in Ecclesiastes, it's Aaron.
Given all that he's been through, his producer, Steve Hindalong, challenged him to dig deep when writing songs for his recent album, The Change.
Hardly the typical, feel-good songs that many listeners automatically associate with the Christian music genre, Aaron wasn't afraid to tackle life's challenging realities in the lyrics while also clinging to the God who's saved and redeemed him.
"Steve was able to help me dig deeper lyrically," Aaron shares. "He stretched me to not write my first idea, the first cliché. This recording process taught me to grow in ways I never thought, to state ideas that hadn't been said before instead of finding the easy rhyme scheme. I'm most certainly a better writer after spending weeks in the studio working on this project."
And for anyone who's gone through a particularly sorrowful season like Aaron did, it's an honest look at praising God in the face of adversity.