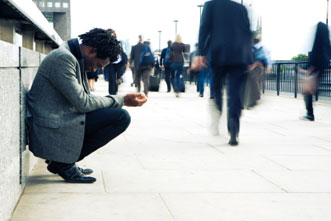 David Thomason had written off church long ago.
Growing up, he observed his local congregation behaving like big business and becoming a money-making enterprise—tithe, tithe, tithe … building fund, building fund, building fund.
He watched his pastor accumulate enough cash to move into one of the biggest houses in town—and get admired for being upwardly mobile.
It just didn't add up.
"It's not supposed to be like that," Thomason remembers saying to himself.
As he grew older, Thomason got "farther and farther away from church" until he just stopped going. "I thought, It's not for me," he says.
Years passed until his wife finally convinced him to attend Austin New Church in Austin, Texas, with her, and he reluctantly checked it out the week before Easter 2010.
Lead Pastor Brandon Hatmaker's message about serving others intrigued Thomason, and his interest grew after getting wind of the church's unorthodox Easter service plan.
How unorthodox? Austin New Church would shut its doors on Easter Sunday, set up shop on a street corner in downtown Austin, hold a worship-and-communion service for the homeless there, and grill cheeseburgers for everybody. The church celebrated Easter 2011 the same way.
Thomason was all over it.
"It was crazy for me," he recalls. "I didn't know anybody, but they put me to work, and we grilled 2,500 burgers. The band was playing worship music, and it just changed me. I felt good helping out. So I started trying to learn more about ANC's mission."
Within a year, Thomason and his wife were baptized, and he was set to travel to Haiti to build houses as part of his first-ever mission trip in early November 2011. Thomason points to the church's Easter service as the spark that catalyzed his spirit.
"Before, I didn't think about God at all," he says. "Never crossed my mind. I didn't weigh any action against what the Bible said. I just lived my own life." But something was "awakened" in him on Easter 2010: "The fact that we took the church to the people, donated everything we had, and just tried to be a light—it wasn't about money at all. And that was the biggest turning point for me."
Hatmaker has encountered many people like Thomason since starting Austin New Church three years ago as a service-oriented congregation, which now has 500 to 600 attendees each week. And while the church's Easter service is an outreach to the homeless, Hatmaker sees it even more as an outreach to those who do the serving.
"It's a 'taste and see' thing," he explains. "We want to get people out of their red brick homes and around people who have so much less. Then as they begin to talk to homeless people, the Spirit starts drawing them toward that—and after a while, it's no longer OK to just serve cheeseburgers." From a discipleship standpoint, Hatmaker views serving others as a springboard to a deeper walk with God.
In fact, service was the entire impetus of Austin New Church's birth—and, by extension, the Easter service idea, Hatmaker says. God challenged the church to serve the poor, to confront consumerism—it was a "moral imperative," he says. Service, especially to the poor, became the heart of the church's mission—with the downtown Easter service as one of the many manifestations of that commitment. (In addition to Easter, Austin New Church cancels church every fifth Sunday to go into the community and serve.)
But the first city-corner Easter service in 2010 was memorable.
"There was a huge party that day," Hatmaker remembers. "It was really beautiful." Instead of simply serving food, Austin New Church's worship band played a few songs, and communion was held, with sealed wafer-and-juice packs passed out to several hundred people gathered on the corner of Seventh and Neches streets.
"It was amazing to have total silence among all those people during communion," Hatmaker recalls, adding that they said the Lord's Prayer together as well.
"It was my favorite Easter service of my life," Hatmaker says of the 2010 Easter service, which has become a tradition for the church. "And we completely gain more out of it than the people we're serving."

How To: Take Easter to the Homeless
• Determine who runs the outdoor space you want to use. Rent it, and have written proof of the rental agreement in case you need to produce it for authorities on event day.

• Ask volunteers to sign up to perform one task each.

• Bring more supplies than you think you'll need.

• Keep it simple. Austin New Church passes out water bottles, bags of chips and cheeseburgers—that's it.

• Be orderly. Ask everyone to line up and then pass out tickets. If you only have 300 burgers, don't distribute more than 300 tickets.

• If you have to turn people away, do—and be firm. It's better than promising food you can't provide.

• Don't try to be too polished. There's something cool about "the scramble" when everyone rallies, Hatmaker says, so don't try to control it too much. Let it be messy.

• Let people approach you. Then look them in the eyes, say hello, ask them their names and where they're from.

• Listen to their stories.

• Bring your kids to the service. It will change the way they view people.

• Leave the area cleaner than you found it.