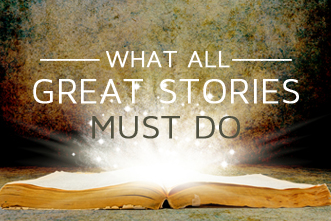 As church communicators we often talk about the importance of telling a good story.
When we can share a personal story or do something that stirs emotion, people will always remember it more than if we just list a bunch of facts. While it's encouraging to see churches doing more storytelling, I think it's time to take the next step.
The best stories not only stir emotions but compel people to take action.
If you think about it, that makes sense. As church communicators we are trying to be creative in our storytelling so people will pay attention.
But why do we want them to tune in? We want them to do something.
Sign up to volunteer.
Be a part of a small group.
Help with a neighborhood service project.
Become a more involved member.
Grow deeper in your faith.
All of these are calls to action.
Yet sometimes I think we forget about the call to action part. We're more concerned about being entertaining or making something look cool.
We're forgetting about the ultimate goal of motivating somebody to do something. Yes, humor, slick video editing effects or clever writing can help reach that goal, but elements like that alone aren't enough.
I have to thank my friend Tim Schraeder for first planting this thought in my head. At the end of every Echo Conference, he has this great skill of taking what he's heard from a bunch of speakers and coming up with a short, tweetable, overarching theme.
In 2010, it was about telling stories. In 2011, it was about taking action.
Now, in 2012, I'm realizing how those two elements really go together. Neither are fads, but both are pieces that can help you make your congregation stronger. You use story to motivate them to take action to impact your community for Christ.
Access to better technology is getting cheaper and easier. Amateurs have access to professional-grade tools. It's awesome for those of us in communications because we can potentially do more with a higher level of quality. We have access to great storytelling elements like people's pictures and videos.
Yet we have to resist the urge to just make something look cool without thinking about what action it's inspiring. Similarly, we have to realize just throwing someone's face on a brochure by itself doesn't make a compelling story.
Think about the way Jesus told parables.
They weren't just for fun. He wanted people to understand how they could do something different with their lives. There was a clear way laid out for people to action.
A story without a call to action is just fluff.