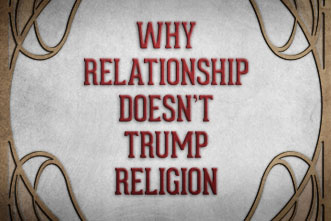 On the sign of a local church: It's not about religion. It's about a relationship with Jesus.
When I first saw the sign I thought: That's great, they're trying to reach people—and I know what they're saying. Christianity isn't drudgery; it's not a bunch of tedious rules and regulations we slog through; it's a joy-filled relationship with God through Jesus. I commend that church for reaching out to our community.
But the more I thought about it, the more it bothered me.
Bear with with me here—remember, I'm an old guy and I'm entitled to these kinds of musings. If you want you can blast me afterwards, but hear me out for a second.
The sign bothered me because being a Christian IS about religion.
Religion and relationship with Jesus aren't mutually exclusive. Being a Christian is about religion AND a relationship.
Religion is a specific set of beliefs about God and the practices those beliefs require.
If we don't believe Jesus is God, who became a man, lived a life of perfect obedience to his Father, died on the cross for our sins and rose from the dead, we won't be saved and can have no relationship with the Father or Jesus Christ.
Without religion there is no relationship.
James certainly saw religion as important:
If anyone thinks he is religious and does not bridle his tongue but deceives his heart, this person's religion is worthless. Religion that is pure and undefiled before God, the Father, is this: to visit orphans and widows in their affliction, and to keep oneself unstained from the world (James 1:26-27).
If one can think he is religious yet not be, then it must be possible to actually be. If there is a religion that is worthless, then there is a religion that is true and worth having. James says true religion will lead us to bridle our tongues, visit afflicted orphans and widows, and live holy, unstained lives.